Edge trim are pressed or pushed into place to cover exposed metal or plastic edges. They protect these surfaces and the people who come into contact with them while also providing a finished appearance. Applications for edge trim include the edges of doors on heavy equipment, vehicles, and machinery. Edge trims are also installed over the edges of work surfaces like the stainless steel tables used in commercial kitchens.
Elasto Proxy supplies standard and custom edge trim to many different industries. Because we're a rubber fabricator, we can ship you products that are cut to size and ready to install. With our water jet cutting and large inventory of standard products, we can quickly and cost-effectively supply you with low to medium volumes. Because Elasto Proxy is also a rubber distributor, we can send you coils of edge trim that you cut to size yourself.
Contact us for a quote, or keep reading to learn more about the edge trim we provide.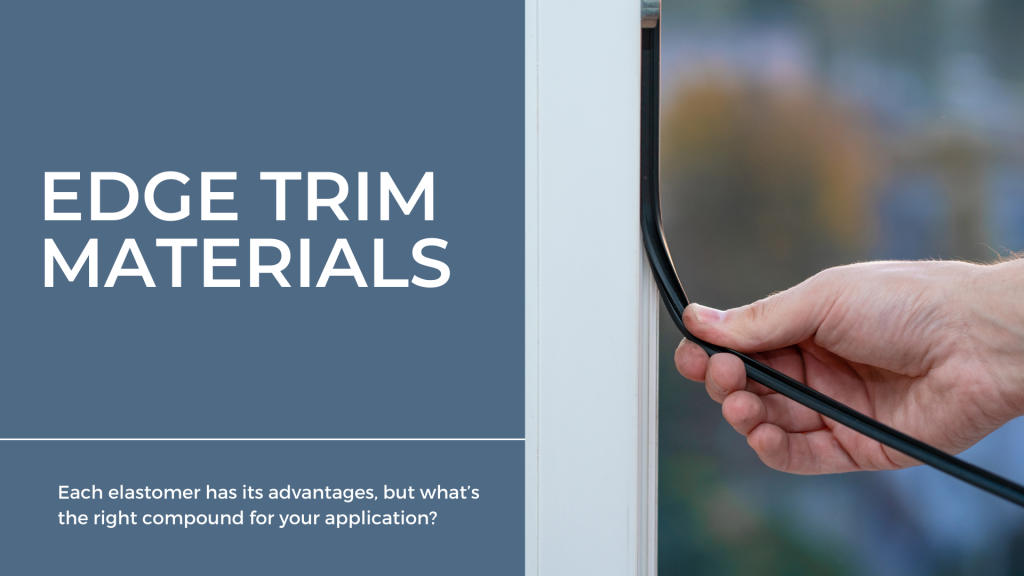 Materials
Edge trim is usually made of solid rubber or plastic materials. The table below describes the most common types.
| | |
| --- | --- |
| Edge Trim Material | Description |
| EPDM | Remains flexible at low temperatures and resists moisture and ultraviolet (UV) light. Fire-rated EPDM is available that meets flame, smoke, and toxicity (FST) requirements for buses, trains, and other mass transit applications. |
| Neoprene | Provides flame and water resistance but has more limited flexibility at low temperatures. |
| PVC | Strong, lightweight, and abrasion-resistant. PVC installs easily but may crack in the cold and fade in the sunlight. |
| TPE | Less likely to crack in the cold than PVC but more expensive than other edge trim materials, including EPDM. Supports recycling. |
| Silicone | Provides low toxicity, low chemical reactivity, and thermal stability over a wide temperature range. Dust may adhere to silicone, however.  |
Sizes
Edge trim needs to have the same thickness as the edge, or flange, that you need to cover. For example, an edge that's 0.125" (0.3175 cm) thick needs a seal with an edge thickness of 0.125" (0.3175 cm) – and not 0.120" (0.3048 cm) or 0.130" (0.3302 cm). Edge trim also needs legs that are long enough to cover the exposed surface. With our large selection of edge trim, Elasto Proxy can provide what you need.
If the edge that you need to cover is curved, measure the bend radius. Then compare this dimension to the minimum bend radius for the edge trim you're considering. Remember that if your edge trim can't accommodate the radius, the seal could buckle and ail. Elasto Proxy can provide you with design assistance if you need it.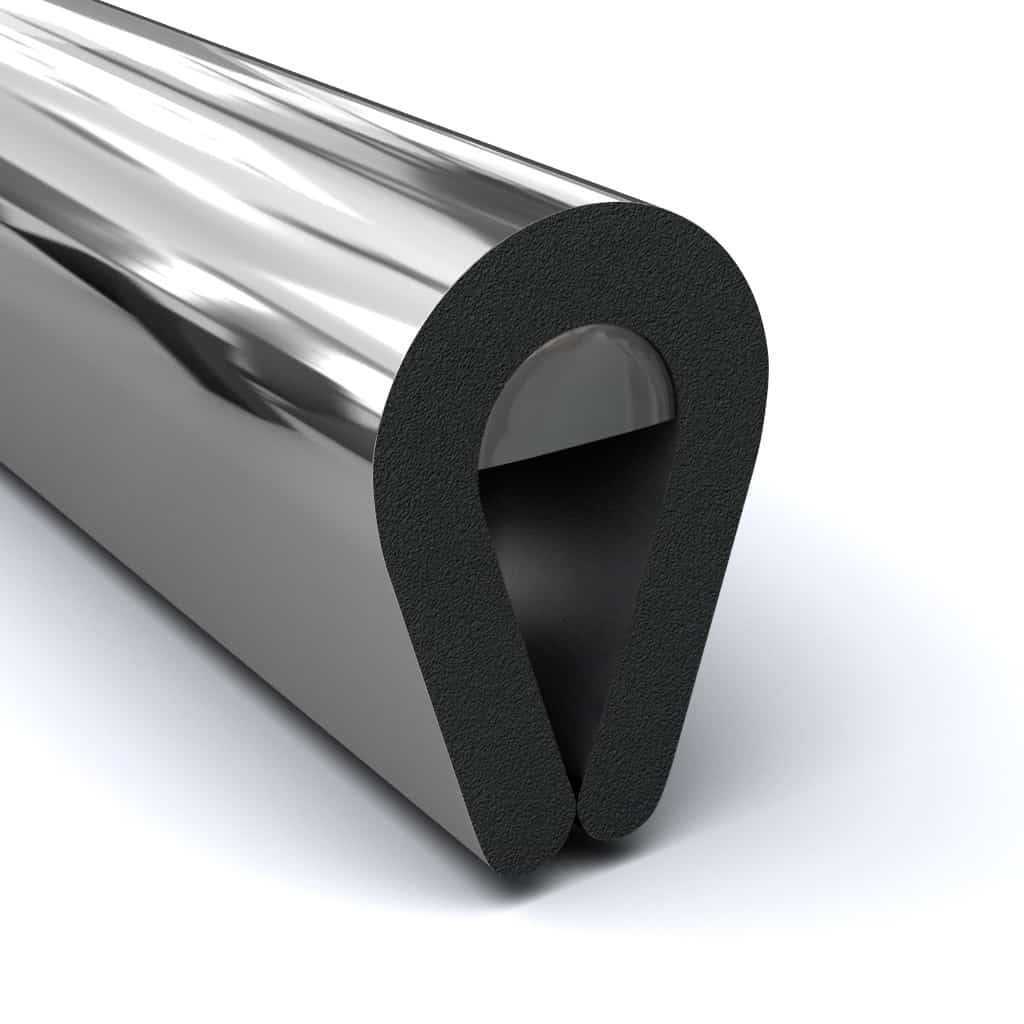 Finishes and Colors
Typically, edge trim is black; however, you can choose colors such as silver or white to match your larger product designs. Although most edge trim has a smooth surface, you can also select products that have a textured or pebbled finish. When specifying custom options, however, remember that these products typically take longer to arrive, especially with custom extrusions that require new dies.  
Edge Trim Reinforcements and Extra Gripping
Durometer, a measure of hardness of hardness, determines whether an edge trim provides greater cushioning or greater impact resistance. Edge trim can also contain steel wire or segmented steel cores for added impact resistance and reinforcement. Steel wires run parallel to the length of the legs and are spaced apart. Segmented steel cores have sections that cover more surface areas.
Edge trim that is properly sized fits snugly and securely over metal or plastic edges; however, for additional gripping, edge trim can have interior tongues. Elasto Proxy can help you to select the right products for your application, and our water jet cutting services can save you time and money on fabricated edge trim. Talk to our team to learn more.