Water jet cutting creates fast, precise, cost-effective cuts without long lead times or tooling changes. For smooth joints and small parts cutting, water jet technology is ideal for rubber, plastic, acoustic foams, and even some types of wood. A form of digital manufacturing, water jet cutting works directly from your CAD files. Compared to manual cutting, it's much faster and reduces material waste from mis-cuts. 
Elasto Proxy use water jet cutting for the rapid prototyping and cost-effective cutting of rubber and plastic components. This low-cost, high-speed cutting technique eliminates tooling charges and expensive dies, providing you with the benefits of custom fabrication without long lead times. The high-pressure heads in our water jet machine enable us to cut multiple sheets or parts at the same time.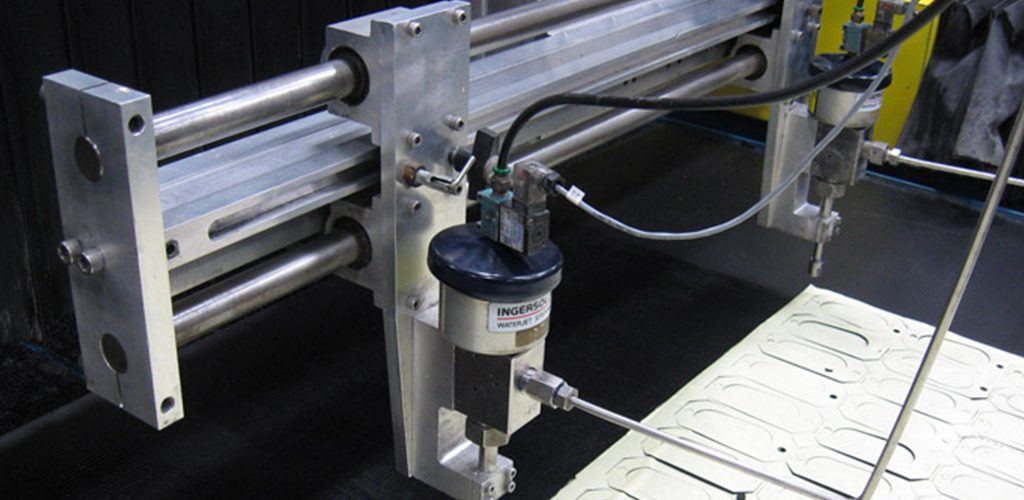 With water jet technology, revising your design means that you never have to scrap your tooling. As your partner and problem solver, Elasto Proxy can simply modify the program and resume fabrication, providing you with out-of-the box solutions. Our custom kits of ready-to-install parts reduce material waste and save time on your assembly line. Instead of cutting gaskets, your operators just install them.
Faster Cuts in More Sizes
Water jet cutting is ideal for polymers and elastomers, but also works well with acoustic foam and some types of wood. At Elasto Proxy, high-pressure Ingersoll-Rand® heads direct jets of 50,000 pounds per square inch (psi) towards an X-Y axis table with a generous 5' x 10' cutting surface. For precision cutting of smaller parts, our water jet machine can make fine, fast cuts as small as 1/2" x 1/2". With gaskets, we can create holes with diameters as small as 0.01".
Precision Cutting for Smoother Edges
Smooth joints, clean edges, dovetail cuts, and perfect 90-degree corners are just some of the benefits that water jet technology provides. Unlike saw or guillotine cuts, water jet cutting doesn't put pressure on the profile.  Often, guillotine cutting creates a beveled edge that is difficult to bond. The clean cuts we get from our water jet make for smooth joints that are both precise and reliable.
Download the Ultimate Customer Success Guide. It is FREE!
Discover more about Elasto Proxy's customer success and industry standards in the guide.