Elasto Proxy will attend CANSEC 2023. Visit us in Booth 909!
Since its founding in 1989, Elasto Proxy has worked hard to earn the trust of the defense community. Our first customer, Atlantic Defense Industries, was a military contractor that built the boom hoist, used on a ten tons military truck, and required us to develop strict quality control and inspection procedures.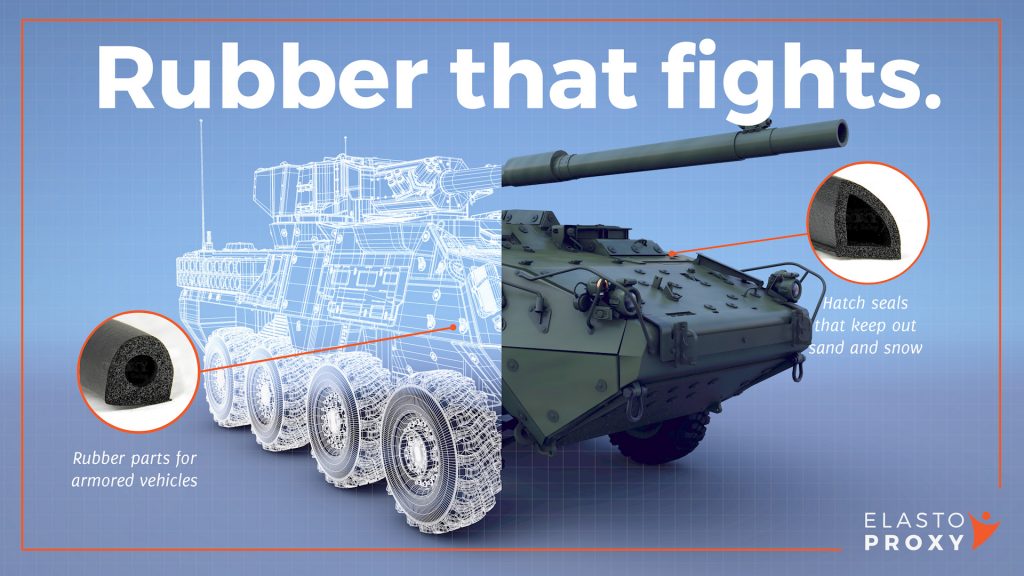 Controlled Goods and CADSI
Since then, Elasto Proxy has earned a Controlled Goods Certificate (CGC) from Public Works and Government Services Canada. As a registered member of Canada's Controlled Goods Program (CGP), we meet all requirements for record keeping, training programs and security briefings, and inspections.
Elasto Proxy also works closely with trade groups such as the Canadian Association of Defense and Security Industries (CADSI). By listening to and learning from other CADSI members, Elasto Proxy understands how costly engineering changes can be.
Managing Costs and Improving Performance
Whether you're a prime contractor or subcontractor, you can count on Elasto Proxy to recommend improvements at the start of new programs, when the time is right. For over 20 years, we've used our application knowledge to help our defense industry customers contain costs and enhance performance.
Today, Elasto Proxy manufactures:
thermal and acoustical insulation for engine compartments and cabs
vibration mounts for electronic displays
seals for doors, windows, hatches, and hangars
parts for partitions and gaskets for gen-sets
personal protection pads for confined spaces such as tanks
molded rubber components for military vehicles like ambulances, mine sweepers, and personnel carriers.
Our flexible and innovative sealing solutions include:
insulation for the inside of engine compartments
specialty seals for engine exhaust and amphibious equipment
parts for push-button tents
rubber components for mine resistant ambush protected (MRAP) vehicles.
Spare Parts and the Supply Chain
When the availability of high-quality spare parts is critical, customers may worry about overdependence on a single supplier. That's why the defense industry counts on Elasto Proxy to provide one-off rubber components, or larger but limited quantities. Even when a military program ends, prime contractors and subcontractors know they can trust us to make spares and tackle old parts.