Elasto Proxy is adding three-axis abrasive water jet cutting to our manufacturing capabilities. Abrasive water jetting is a cold cutting process that mixes garnet abrasive with a high-pressure, high-velocity stream of water. It's used to cut harder, thicker materials such as metals, composites, and glass without creating heat-affected areas, warping, distortion, or work hardening.
Elasto Proxy already has a six-axis robotic abrasive water jet cutter and two pure water jet machines at our Boisbriand, Quebec headquarters. We're also planning to add a three-axis abrasive water jet cutter at our Simpsonville, South Carolina location. Elasto Proxy serves customers across North American and Europe and holds ISO 9001:2015 and AS9100D certifications.
How Abrasive Water Jet Cutting Works
Abrasive water jet cutting is similar to pure water jet cutting, but with an important difference. During both forms of cutting, highly-pressurized water is fired through a nozzle to pierce sheet materials or extrusions that are positioned on a worktable. With abrasive water jet cutting, the vacuum that is created by this pressure draws garnet sand into the stream. It's this mixture of highly-pressurized water and garnet that enables abrasive water jetting to cut through harder materials.
Digital Manufacturing in Three Degrees of Freedom
Three-axis abrasive water jet cutting combines the benefits of digital manufacturing with the advantages of abrasive water jetting in three degrees of freedom. Mastercam, a type of computer-aided manufacturing software (CAM), generates the cutting code from a digital exchange file (.DXF) with the part's computer-aided design (CAD) model. An abrasive water jet head moves above the worktable and along X, Y, and Z axes to alphanumeric coordinates, making intricate and accurate cuts.
Abrasive Water Jet Cutter Specifications
The three-axis machine that Elasto Proxy purchased is an OMAX 2652 with an X-Y cutting envelope of 52" x 26" and 8" of Z-axis travel. With a table size of 69" (L) x 30" (W), this equipment can cut small and medium-sized parts from sheets or extrusions of metal or rubber-reinforced metal. It also cuts Kevlar, ceramic, glass, and other hard materials. With aluminum, tolerances of 1/8" are typical. Minimum feature sizes of 3/8", including angles and circles, are just part of what the OMAX 2652 water jet can do.
Types of Abrasive Water Jet Cut Parts
Elasto Proxy's three-axis abrasive water jet machine can cut small hooks with bolt holes and thin, tapered ends. It can also cut 1" of ballistic Kevlar, a strong synthetic fiber that's used in the engine bay firewalls  of military vehicles. Three-axis abrasive water jetting can also cut parts such as the gas pedals used with heavy equipment. Rubber can be bonded to these arm-like metal structures so that the operator's boot contacts a surface that's not slippery and won't rust.
Abrasive Water Jet Cutting vs. CNC Cutting
Abrasive water jet cutting provides important advantages over CNC cutting, another computer-controlled cutting process. With CNC machining, parts like small hooks with bolt holes are time-consuming to cut. CNC tools are also subject to wear, especially with very hard steels, and the workpiece must be held in place.  With composite materials, CNC cutting can produce significant amounts of dust, which requires air filtration and cleanup. By contrast, abrasive water jet cutting is tool-less and essentially dust-free.
Abrasive Water Jet Cutting vs. Laser Cutting
Laser cutting can be used instead of CNC cutting, but the heat from a laser can discolor the thinner sections of parts or melt thin walls. Abrasive water jet cutting doesn't produce heat-effected zones but can still make intricate cuts even in tight areas. Plus, abrasive water jetting can produce parts cost-effectively, even in low-volume runs of just 10 or 20 parts. Although abrasive water jetting cuts with a slight taper and produces some surface roughness, the precision is suitable for many projects.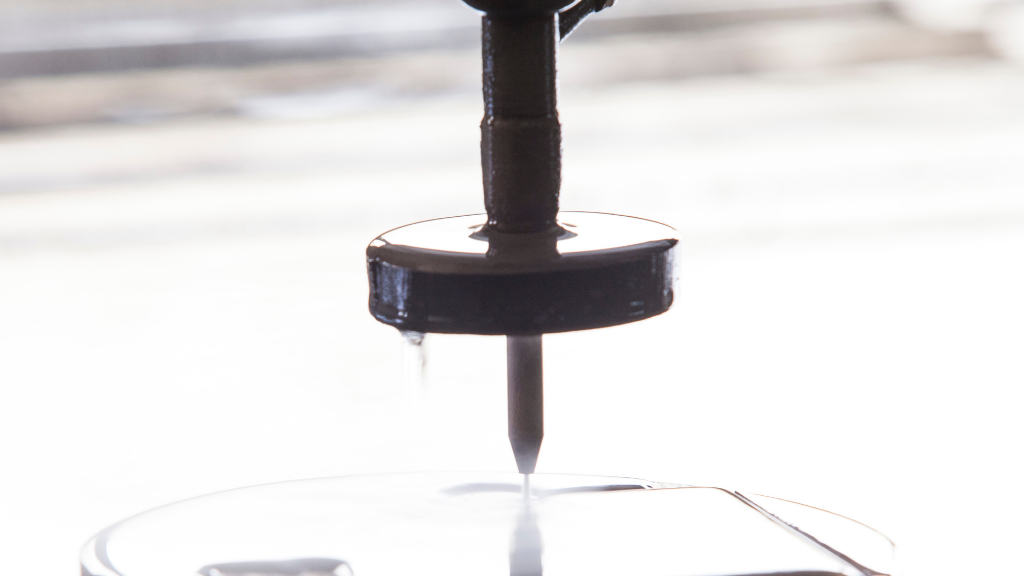 Three-Axis Abrasive Water Jet Cutting from Elasto Proxy
Elasto Proxy plans to begin offering three-axis abrasive water jet cutting at our Montreal-area facility in March 2022. Whether you're already working with us or looking for cutting services, we invite you to contact us and book time on our machine. For over 30 years, we've been providing more than just industrial products. Today, our added-value services also include kitting and custom packaging.