EV charging stations use four types of rubber products:
Environmental seals
Flame retardant gaskets
EMI shielding gaskets
Molded rubber parts
Elasto Proxy supplies rubber products for EV charging stations and specializes in low-to-medium volumes. We also provide design assistance, ready-to-install finished gaskets and added-value services like kitting and assembly packaging.
Contact us to discuss your sealing application or keep reading to learn more.
Environmental Seals for EV Charging Stations
EV charging stations contain electrical and electronic components that need to be protected from outdoor environments. For example, the part of the charging station that's known as the head contains circuit boards, an LED light strip, and an antenna. Aluminum or polycarbonate panels enclose and protect the head, but there are tiny gaps where these metal or plastic panels meet.
To keep out water, windblown dust, and other contaminants, EV charging station manufacturers use rubber seals. Unlike metal or hard plastic, rubber can conform to irregular surfaces and fill in small gaps. Rubber can also compress when panels are screwed together. Yet not all environmental seals are the same. In fact, some are more reliable than others.     
The image below is from a YouTube video about how EV charging stations are made. If you look toward the bottom-middle, you'll see how two cut lengths of rubber butt up against each other. That's called a butt joint – and it's not the best way to form a seal. Sometimes, an installer will cut the lengths too short, which results in leaks. Alternatively, an installer can cut another length, but that results in material waste.  
When you work with Elasto Proxy, we may recommend cutting and bonding gasket corners at a 45-degree angle. Alternatively, we may be able to produce your gasket as an endless loop – if the radius allows. By working with us early in your design process, you could get a gasket with one bond instead of four for lower costs. We can also help you to select a sponge rubber material like the one in the video.  
Flame Retardant Gaskets for EV Charging Stations
Like any electrical installation, EV charging stations pose the risk of fire. That's why in the United States, EV charging stations need to meet requirements in the National Electric Code (NEC). In turn, the NEC requires electrical systems to comply with standards from organizations such as Underwriters Laboratories (UL). In Canada, the Canadian Electric Code (CEC) applies to electrical equipment instead.
UL, a global safety science company, publishes UL 94, a plastics flammability standard that also covers rubber products. Within UL 94, there's UL 94 V0, which is a vertical burn rating, and UL 94 HB, which is a horizontal burn rating. There are also ratings like UL 94 V1, V2, and V3. When designing an EV charging station, different parts of the unit may need to use materials that meet different UL 94 ratings.   
For example, closed-cell silicone sponge gaskets with a UL 94 V0 flame rating are used near the socket outlet, the part of the charging station that holds a removable plug. For parts of the EV cabinet itself, UL 94 HB gaskets are used. Elasto Proxy can provide you with gaskets that meet these and other UL 94 flame ratings, and we offer UL 94 HB EPDM sponge rubber in both standard and custom extrusions .
Our standard UL 94 HB product contains a spring steel clip for impact resistance, is black in color, and withstands water, steam, and high temperatures. Extrusions made of this material are designed to fit a 1/8" gap between panels and support the use of fire-resistant adhesive tape for ease-of-installation. Because the tooling for this extrusion already exists, you won't have to pay for or wait for a new die.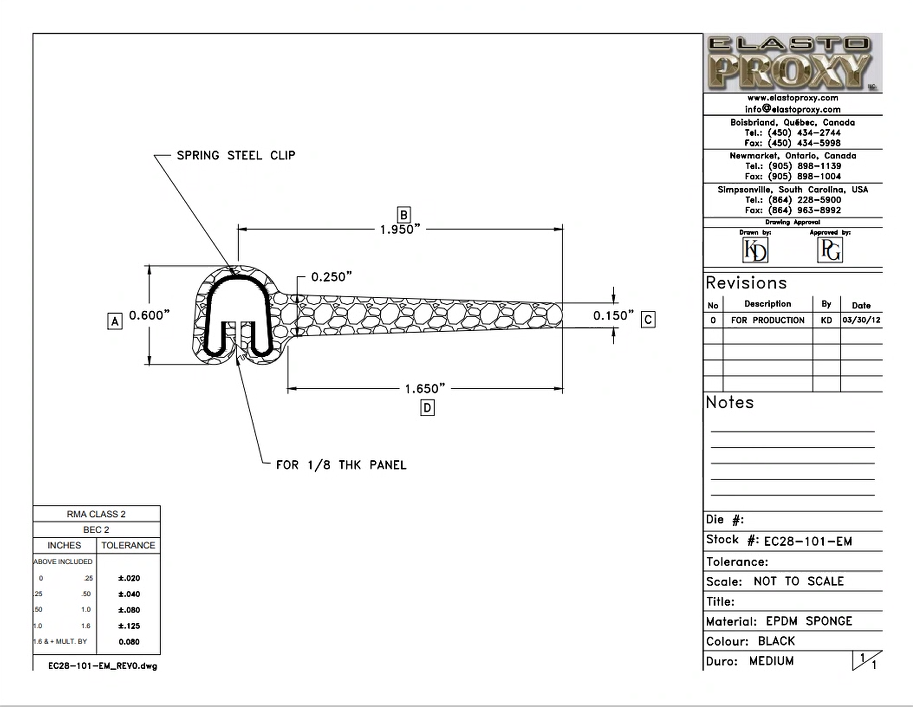 EMI Shielding Gaskets for EV Charging Stations
Electromagnetic interference (EMI) can degrade the performance of EV charging stations. The sources of EMI are numerous and include advanced driver assistance systems (ADAS) from nearby EVs and fast-response sensors used during charging. When EMI becomes an even more noticeable problem, the display on the front of the EV charging station may appear blank or show a screen with a solid color.
For gaskets that require EMI shielding with environmental sealing, silicones that are filled with metal or metal-coated particles are a good choice. Many of these electrically-conductive elastomers have shielding effectiveness up to 120 dB at 10 GHz. Because the base material is silicone, the benefits include resistance to water, high temperatures, thermal cycling, and many common chemicals.
Elasto Proxy can fabricate EMI shielding gaskets for EV charging stations from sheets, continuous rolls, or extrusions. Because we use waterjet cutting, a precise and toolless process, we can also nest EMI gaskets for maximum material yields. That's an important consideration with elastomers that contain silver or silver-coated particles, metals that are relatively expensive.
Molded Rubber Parts and More
Finally, EV charging stations contain molded rubber parts such as grommets, components that are installed within panels and that help to protect wires or cables that pass through. Typically, rubber grommets are shaped like rings or eyelets; however, grommets can also be flanged, collared, or shaped like a horseshoe. Materials of construction include EPDM, silicone, neoprene, and nitrile.
When you purchase rubber products for EV charging stations from Elasto Proxy, you can get all of the elastomeric components that you need for a build: environmental seals, flame retardant gaskets, EMI shielding gaskets, and molded rubber parts. We can also provide you with services such as kitting and assembly packaging so that you get all of the parts for a unit at once – and packaged in order of installation.
Sure, you could just buy your own lengths of rubber and cut them instead. But take another look at the gasket with the butt joints above. If an EV charging station gasket leaks, or if fails to meet flammability ratings or EMI shielding requirements, what's the true cost? If an installer throws miscuts in the trash, you'll really never know.
If you're an EV charging station manufacturer who needs rubber products, we invite you to contact us.