Buying molded parts from Elasto Proxy is the smarter way to support automotive OEMs.
The automotive industry needs molded rubber and plastic parts that are delivered on time and made of approved materials. The Tier 2 and Tier 3 suppliers who buy these components include metal stamping and machining companies that want to streamline their vendor management, inventory control, and logistics to control costs and achieve greater efficiencies. In an industry where part prices are calculated in fractions of a cent and OEMs take months to pay invoices, managing cash flow is key.   
Operationally, it's inefficient to buy just one or two components from many different suppliers. Managing all those vendor scorecards comes with a cost, and there's added paperwork for front-office personnel. There's also a cost to warehousing large volumes of molded rubber and plastic parts that aren't needed for a while. Tier 2 and Tier 3 companies can get a volume discount if they buy more up-front but that can tie up cash. It can also tie up floor space, which is why OEMs like just-in-time inventory (JIT).  
Elasto Proxy supplies molded parts to metal stamping and machining companies that want a better way to support automotive OEMs, but not at the expense of their own operations. That's why these suppliers issue Elasto Proxy a blanket purchase order for all of the molded parts that an OEM needs. Elasto Proxy buys all of the parts, stores them in its warehouses, and then ships them on time to the OEM. Metal stamping and machining companies aren't billed until the parts arrive, and that helps them conserve cash.
The benefits don't end there either. Tier 2 and Tier 3 supplies that don't have to store molded parts in their own facilities have more space for productive activities. They need fewer racking and shelving units, but they can still pursue high-volume OEM opportunities. That's why when a metal stamping company needed multiple molded parts for a seat assembly, Elasto Proxy crafted a complete supply chain solution, beginning with our own vendor network of trusted suppliers from overseas.
Molded Rubber and Plastic Parts
Elasto Proxy can supply you with molded rubber parts like bellows and boots, and with rubber-to-metal bonded assembles like bumpers and brake pedals. We can also provide you with molded plastic parts and plastic-to-metal bonded assemblies if you need them. Whether it's inside the cabin, outside the vehicle, or under the hood, Elasto Proxy sources everything you need and delivers it in a way that's smart, fast, and efficient.
Interior Components
Elasto Proxy can supply these and other molded parts for automotive interiors.
Ducts and hoses
Glove box liners and bumper pads
Console bin mats and cupholder inserts
Seating topper pads
NVH components for noise, vibration, and harshness
BSR components for buzz, squeak, and rattle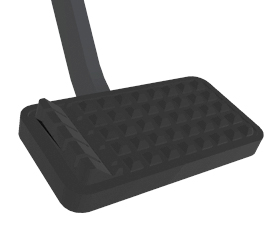 Exterior Components
Elasto Proxy also supplies molded automotive parts like these for vehicle exteriors.
Mirror gaskets
Tail lamp gaskets
Wheel housing liners
Gas tank pads
Door water barriers
Fender stuffers
HVAC seals
Engine Bay Components
Elasto Proxy has you covered under the hood as well with molded rubber parts like silicone hose connectors and rubber-to-metal bonded assemblies such as hose clamps. If you need to buy related parts that are part of a larger assembly, we can kit them for you. That reduces the number of stocking units (SKUs) that you need to order, receive, track, and pay for. Automotive customers can also leverage our assembly packaging capabilities so that all of the parts they need arrive in order of assembly.
Molded Automotive Parts and More
Elasto Proxy is also a value-added manufacturer that can supply you with rubber extrusions that arrive ready to cut or finished gaskets that arrive ready to install. In addition, we provide acoustic insulation for quieter cabins and thermal insulation for inside the engine bay. Whether you need low, medium, or high part volumes, and whether you need prototypes or production quantities, we can develop the right solution for both you and your OEM customers.
Ready to learn more? Talk to our team.