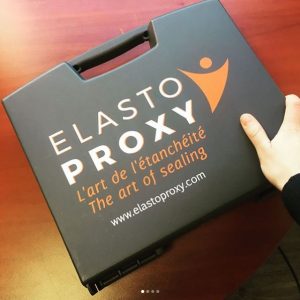 Elasto Proxy supplies industrial products that you probably didn't know we offered. Why does this matter to you? Engineers need reliable parts that support larger product designs. Components that don't work, won't fit, fail in the field, or wear out too soon can cause project delays and cost overruns. If your current supplier can't support your application, Elasto Proxy may offer an alternative.
Purchasing personnel also need suppliers who meet business and technical requirements. For purchasing agents, sticking with the same vendor may seem like the easiest way to do business. Yet it's not always the best way, as sourcing managers can attest. As companies consolidate vendor lists to reduce operational expenses, they're also buying more parts from suppliers with strong vendor scorecards.
In this article from Elasto Proxy, you'll learn about five products that we offer that you probably didn't know we did. Do you need rubber that's bonded to metal, silicone hose, metallic-colored extrusions, molded plastic parts, or sewn products? If your company is buying these products from another supplier, you could save time and money by ordering them from Elasto Proxy instead.
Rubber-to-Metal Bonded Products
Elasto Proxy supplies rubber-to-metal bonded products for protection against shock and vibration. These isolation mounts are used with vehicles, machinery, and equipment. Applications include motors, pumps, HVAC systems, and consumer appliances. Typically, anti-vibration mounts consist of a molded rubber component and a threaded fastener or metal flange. Rubber-to-metal bonded products for shock and vibration include bushings, washers, grommets, isolation pads, machinery mounts, and vehicle mounts.
Silicone Hoses
Silicone hoses are molded rubber parts that connect the intake pipes and tubes in diesel-powered vehicles and equipment. Applications include generator sets (gensets), ships and boats, and on-road and off-road equipment for forestry, mining, construction, and agriculture. Straight silicone hoses come in various lengths, support the use of metal clamps, and may contain fabric reinforcements. Hump hoses support slight intake adjustments and bends. Applications include air metering, throttle bodies, inlets, and outlets.
Metallic Colored Extrusions
Many industrial rubber products are black, but Elasto Proxy can color-match extrusions to support your larger product designs. This is especially important in industries (such as mobile equipment) where branding and product differentiation matter most. In the case of TPE bulb trim seals, Elasto Proxy can source extrusions in metallic colors such as silver. TPE profiles are also recyclable and have significantly tighter tolerances (2x) that most extruders can achieve with EPDM.
Molded Plastic Parts
Elasto Proxy also supplies molded plastic parts that are replacing heavier, more expensive metal components. Examples include ABS pedal pads and Delrin® rollers for hospital beds. Thanks to Pantone color matching, plastic pedal pads can be color-coded for molded products where red means "stop" and green means "go". Delrin® rollers are made of an engineered thermoplastic and can support patients who weigh up to 300 lbs. Molded plastic parts from Elasto Proxy are also used in the defense industry.
Sewn Products
Sewn products from Elasto Proxy include the arm rests in mobile equipment such as trains and buses. These interior components provide cushioning and can be covered in vinyl to resist wear and support cleaning. The stitching that Elasto Proxy uses can match your company's color scheme or larger product scheme, too. Our capabilities include working with specialized adhesives and sewing Velcro onto rubber.
Five Products You Need from a Supplier You Trust
Are you currently sourcing industrial rubber products from Elasto Proxy? Would you like to source more of your products from a supplier you can trust? Whether you're an engineer, a purchasing agent, or a sourcing manager, you can save time and money by asking us for rubber-to-metal bonded products, silicone hoses, metallic colored extrusions, molded plastic parts, or sewn products.
To get started, contact Elasto Proxy.