Custom fabrication transforms stock materials into parts and products that are made specifically for an individual customer. Whether it's with rubber or plastic extrusions or sheets of metal or glass, custom fabrication adds value to materials that come in standard shapes and sizes. Custom fabricators vary in terms of capabilities, however, and some don't work with certain materials, order quantities, or industries.
Elasto Proxy is a custom fabricator that specializes in creating low-to-medium volumes of seals, gaskets, and insulation for manufacturers of machines, vehicles, and equipment. The types of parts we've produced include high-temperature seals for commercial ovens, chemically-resistant door gaskets for pharmaceutical tableting machines, and thermal and acoustic insulation for forestry equipment.
These are just a few examples, and there's much more we can do for you – including with metal, glass, and other materials. Contact us to discuss your project or keep reading to learn more about our custom fabrication capabilities. Remember, too, that Elasto Proxy also offers services, such as kitting and custom packaging, that add even greater value to the parts we custom-fabricate for you.   
Four Main Custom Fabrication Services
These are the four main custom fabrication services that Elasto Proxy provides.
Water jet cutting
Lamination
Bonding
Taping
In addition, we can provide you with custom-molded parts such as rubber grommets, plastic pedals for hospital beds, and rubber-to-metal bonded assemblies.
Water Jet Cutting
Water jet cutting is a form of digital manufacturing that converts stock materials into custom shapes and sizes. Whether these components represent finished parts or require additional processing, water jet cutting is fast and cost-efficient because there's no tooling to pay for or wait for.
Elasto Proxy provides two forms of water jet cutting.
Pure water jetting is for softer, thinner materials such as rubber and plastic sheets and extrusions, thermal and acoustic foams, and foils and fabrics.
Abrasive water jet cutting is for harder, thicker materials such as metals, composites, glass, and rubber products that contain metal inserts. It's also used to cut thick, soft materials.   
Whether you need prototypes or low-to-medium production quantities, your computer-aided design (CAD) is the starting point for precision cut parts.   
Bonding
Bonding joins the ends of waterjet-cut rubber profiles into finished gaskets. Elasto Proxy offers a choice of four gasket bonding methods.
Hot splicing uses heat, pressure, and thin polyethylene (PE) film splice to join cut ends. Most hot splices are 90°, but this technique also supports 45° miter cuts and endless gaskets.
Vulcanization uses heat, pressure, and uncured rubber that's made of the same type of rubber as the profile itself. It's a good choice for low volumes.
Cold bonding is a manual process that's performed with a brush and an adhesive or glue. In other words, there's no metal tooling or a heat source.
Molding is the only bonding technique that can create rounded corners for rubber gaskets. It's also a good choice for bulbs with challenging shapes.
If you need help choosing the best bonding method for your project, we're ready to share what we know.
Taping
Taping with a pressure-sensitive adhesive (PSA) or heat-activated taping system (HATS) keeps rubber products in place for temporary or permanent fastening. Many of the custom-fabricated parts Elasto Proxy provides can be supplied with a taped adhesive backing. By taping seals, gaskets, and insulation to surfaces such as walls, doors, or sealing, you can speed up installation.
Elasto Proxy uses compact taping equipment to process quantities of all sizes.  Our ability to handle low volumes is especially important, as Elasto Proxy can purchase small amounts of material and perform quick setups. PSA tape is a good choice for rough or porous surfaces, and HATS tape provides strong adhesion to hard-to-bond surfaces like automotive paints and plastics.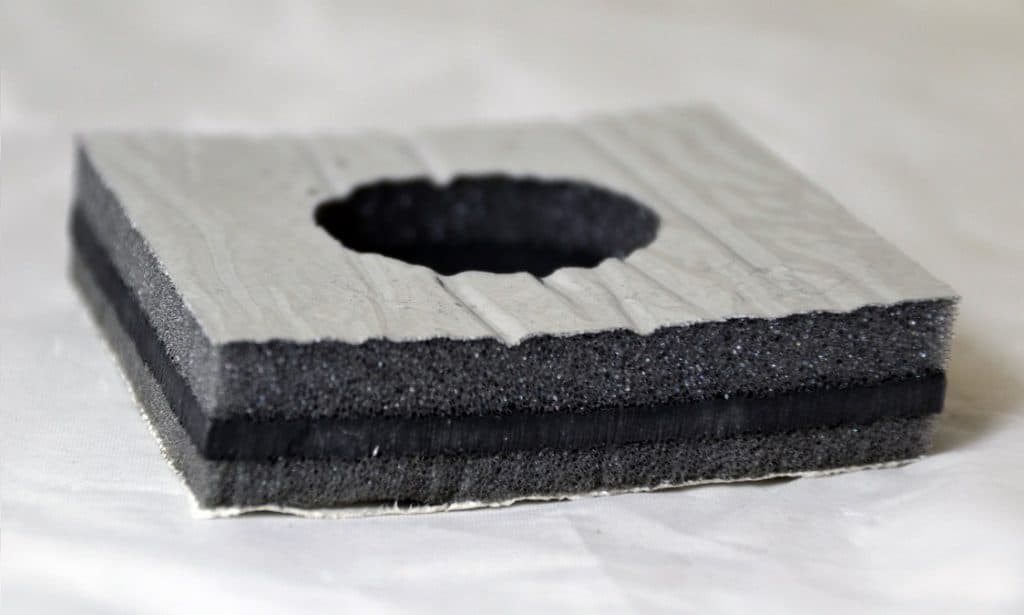 Lamination
Lamination is a custom-fabrication process that layers and adhesively bonds different materials together into a sandwich-like structure. At Elasto Proxy, the applications include thermal, acoustic, and thermal-acoustic insulation. Lamination requires considerable skill as well as strong knowledge of how different materials will perform individually and in combination with each other.
After sheet materials are laminated together, they can be water jet cut into part-specific shapes, such as acoustic insulation that conforms to the contours of the cabin interior for forestry equipment. Elasto Proxy can also apply a pressure-sensitive adhesive (PSA) to laminated products so that they are easy to install and don't require messy adhesive spraying or the time-consuming use of fasteners.
Custom Fabrication Services That Add Value
Do you need custom-fabricated parts that add value to your operations? In addition to water jet cutting, bonding, taping, and lamination, Elasto Proxy offers kitting and custom packaging services along with warehousing for stock materials and finished goods. Whether it's on-demand or in response to your production forecasts, we have the custom fabrication services that you need.