Silicone seals combine environmental sealing and insulation with chemical inertness, low toxicity, and resistance to high and low temperatures. Silicones, a group of synthetic elastomers, repel water and withstand ozone, oxygen, and sunlight. They're not limited to outdoor uses, however. From oven seals and baking mats to medical wearables and lab equipment, silicone seals also have indoor applications.      
Normally, silicones do not conduct heat or electricity. Depending on what's added to them, however, silicone compounds can be electrically or thermally conductive instead. Specialized silicones can also impart properties such as EMI shielding, biocompatibility, or flame resistance. There are many different types and grades of silicone rubber, so it's important to look for more than just a "silicone seal".
Elasto Proxy stocks standard silicone materials and can custom-order compounds that meet your specific requirements. We can also help you with material selection and review your seal designs. At our North American manufacturing locations, we water jet cut silicone elastomers from sheets or rolls of solid, sponge, or foam rubber. We can also supply you with molded silicone products if you need them.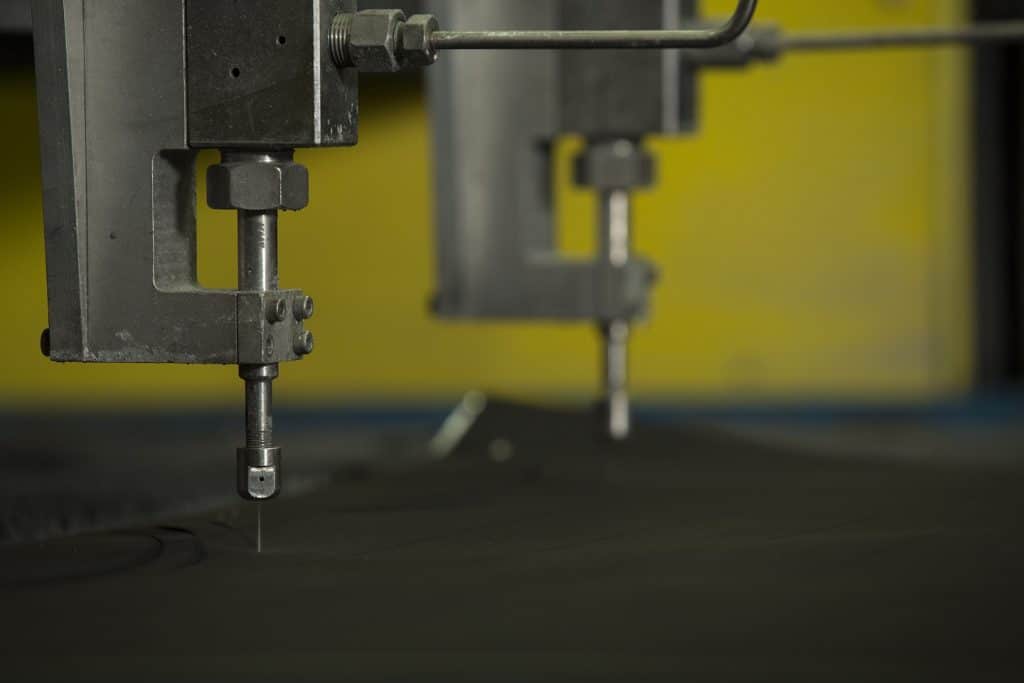 Types of Silicone Seals
Elasto Proxy fabricates these and other types of silicone seals.
Solid silicone
Sponge silicone
Silicone foam
Electrically conductive
Thermally conductive
Medical grade and food grade
Flame resistant
IP and NEMA compliant
This article describes each type, and we invite commercial and industrial companies who need low-to-medium volumes to contact us for a quote.  
Solid Silicone Seals
Solid silicone seals have a tightly-packed molecular structure. Elasto Proxy fabricates them from silicone sheets, rolls, or extrusions in different Shore A durometers, a measure of hardness. Lower-durometer silicones are soft, compressible, and can provide cushioning. Higher-durometer silicones are harder and provide impact resistance.
Sponge Silicone Seals
Sponge silicone seals do not have a tightly-packed molecular structure. Instead, they contain tiny cells that are either open or closed. Open cells allow air, chemicals, and water to pass through unless the seal is compressed, typically to exclude air or light. Closed cells prevent the passage of these substances at low pressures, which makes them a good choice for sealing out water.
Silicone Foam 
Silicone foam seals also have cells that are either open or closed. However, silicone foams have a smoother surface because of the way they're cured. Also, whereas silicone sponge is typically soft and compressible, silicone foams are usually rigid. Depending on the ingredients in the specific compound, applications for silicone foams include flame barriers.
Electrically Conductive Silicone 
Electrically conductive silicone seals are filled with metal or metal-coated particles that also provide shielding against electromagnetic interference (EMI). Some of the compounds that Elasto Proxy can source meet the requirements of MIL-DTL-83285, a U.S. military standard. Non-military applications for electrically conductive EMI seals include robotics, 5G communications, and automobiles.
Thermally Conductive Silicone 
Thermally conductive silicone seals are filled with aluminum oxide or boron nitride particles that conduct heat, the enemy of reliable electronics. These products are used in electronic enclosures, battery compartments for electric vehicles, and other high-heat applications. With water jet cut thermal pads, the sheeting that's used can contain a fabric reinforcement for added strength. 
Medical Grade and Food Grade Silicone 
Medical grade and food grade silicone seals meet regulatory requirements. For example, Elasto Proxy can source FDA-approved silicone sponge for medical seals. We can also source silicones that are safe for food contact, or that meet RoHS requirements. In addition, we can fabricate USP Class VI silicone seals that meet biocompatibility testing requirements from the U.S. Pharmacopeia (USP).
Flame Resistant Silicone
Flame resistant silicone seals are made from compounds that meet UL 94 flammability requirements such as UL 94 V-0, UL-94 V-1, or UL 94 HB. Elasto Proxy can also source silicones that meet flame, smoke, and toxicity (FST) requirements for the transportation industry, or that meet aerospace material standards (AMS).  We can also suppy silicone seals that combine flame resistance with EMI shielding.
IP and NEMA Silicone Seals
Elasto Proxy can even supply you with silicone enclosure gaskets that meet requirements for ingress protection (IP), or that comply with ratings from the National Electrical Manufacturers Association (NEMA). And if you're not sure if we can supply what you need, just ask. With our strong supplier network and robust manufacturing capabilities, we've got you covered.
Ready to learn more?