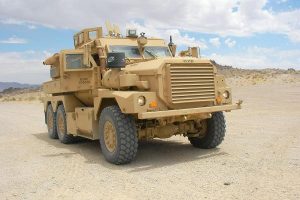 Military gaskets provide sealing and insulation in some of the world's most demanding environments. Marine applications include amphibious landing craft, battleships and submarines, and radar and sonar systems. Aerospace applications include aircraft, unmanned systems, satellites, and radar. Military gaskets for land systems are also used in armored vehicles, tanks, tankers, trucks, and onboard electronics.
For design engineers, specifying the right rubber gaskets for military projects can be a complex task. Many defense contractors are familiar with acronyms like MRAP, but has your design team heard of MTAP? This four-letter acronym from Elasto Proxy explains how engineers need to consider media, temperature, application, and pressure during gasket design and compound selection.
Media
The M in MTAP stands for Media. This includes fuels, chemicals, and any cleaning-type solutions that may be applied to a rubber product. For example, the rubber gasket on a tanker truck's fuel door must provide gasoline or diesel fuel resistance, depending on the type of engine. For that matter, the window gaskets in armored personnel carriers must resist chemical warfare agents (CWA) and support decontamination procedures that remove or neutralize these hazardous substances.
Temperature
The T in MTAP stands for Temperature, another factor that may limit which materials you can use. If you're designing a door seal for an armored vehicle, will the seal need to withstand desert heat and arctic cold? What are the maximum, minimum, and typical temperatures? For custom-fabricated components such as cab and engine bay insulation, continuous operating temperature is a key technical specification.
Application
The A in MTAP stand for Application, another term to consider carefully. If you're designing rubber gaskets for the doors and windows on military vehicles, do you need to account for specific flange types, flange materials, or metal fasteners? If the application is bolt-grade, what do the drawings show about the bolt pattern? EMI gaskets are different than door seals, of course, and can use shielding silicones. Do you need to meet the MIL-DTL-83528 specification for elastomeric shielding gaskets?
Pressure
Finally, the P in MTAP stands for Pressure. Depending on where the military gasket will be used, there may be several specifications to consider. If the gasket is designed for use with a metal tank, what is the system or internal pressure? If the rubber gasket is for a pump, what's the operating pressure? Maximum pressure is also important to specify in order to avoid seal failure.
Military Gaskets from Elasto Proxy
Designers of military gaskets need a complete understanding of media, temperature, application, and pressure (MTAP). Elasto Proxy is ready to assist you, and can custom-fabricate the seals, gaskets, and insulation that you need to support the mission. We also offer design assistance and can help with material selection. So whether you need one-off spares, quick-turn prototypes, or low-to-medium volume quantities, Elasto Proxy is ready for any sealing challenge.
For over 25 years, Elasto Proxy has worked hard to earn the trust of the North American defense community. Our first customer, Atlantic Defense Industries, was a military contractor that built the boom hoist on a ten-ton truck. Since then, we've supplied the defense industry with custom-fabricated components such as spliced and molded window gaskets, acoustic and thermal insulation, and vibration mounts. Elasto Proxy custom-fabricates EMI gaskets for military electronics, too.
By working closely with our defense industry partners, Elasto Proxy has created sealing and insulation solutions that can withstand extreme conditions. In the process, we've invented an acronym (MTAP) that describes what design engineers need to know during compound selection and custom fabrication. What sealing and insulation solutions can we create for you? To learn more, please contact us.