HVAC maintenance, repair, and overhaul (MRO) organizations need replacement parts for air handling units, air conditioners, boilers, chillers, heat pumps, furnaces, humidifiers, dehumidifiers, and other types of HVAC equipment. HVAC MROs also need to source these replacement parts in low-to-medium volume quantities that meet requirements for cost and quality.
HVAC original equipment manufacturers (OEMs) can supply rubber seals, gaskets, and insulation, but at higher prices and in greater minimum order quantities (MOQs) than some HVAC MROs want to pay. HVAC aftermarket parts are available, but commodity items aren't the right choice when a custom sealing and insulation solution is required.
Elasto Proxy supplies custom HVAC seals, gaskets, and insulation in low-to-medium volumes. HVAC MROs like our pricing, but they also appreciate our value-added manufacturing. In addition to custom fabrication, we offer design assistance and help with material selection. If you don't have a drawing of the HVAC component that you need to replace, just send us a sample and we'll create a CAD file. Elasto Proxy can recommend the right rubber and the most cost-effective MOQ, too.
HVAC Maintenance and Custom Fabrication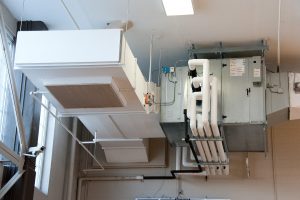 Elasto Proxy's custom fabrication capabilities include water jet cutting, splicing, taping, and lamination. Water jet cutting makes fast, accurate cuts without tooling costs or waiting for tooling. Splicing creates strong joints, corners, and ends. Taping supports ease of assembly. Lamination creates sandwich-like structures with an application-specific combination of properties, such as vibration dampening and thermal-acoustic insulation.
Examples of Elasto Proxy's sealing and insulation solutions for HVAC systems include rubber seals and gaskets for blower motors, heat exchangers, burner boxes, collector boxes, and combustion chambers. We can also custom-fabricate intumescent gaskets that provide passive fire resistance, and supply HVAC MROs with custom insulation that absorbs noise, dampens vibrations, resists microbial growth, and withstands high or low temperatures.
Custom HVAC Seals and Gaskets
Custom HVAC seals and gaskets are usually made of dense elastomers such as EPDM, silicone, TPV, or rigid PVC. Elasto Proxy can help you with material selection by comparing your application requirements to material properties such as tensile strength, compression set, and resistance to heat, abrasion, flame, and weathering. Low-compression rubber that requires less closure force provides superior sealing and is a good choice for access panel gaskets.
HVAC gaskets that are water-jet cut eliminate manual operations that increase your labor costs and can result in material waste. HVAC seals that slide into place speed installation times and can resist stretching and over-compression. If fastening is required, pressure-sensitive adhesive (PSA) tape and heat-activated tape (HAT) can eliminate metal screws, staples, or clips that increase cost and weight. PSA tapes bond quickly, and HAT tapes provide excellent performance at both high and low temperatures.
Custom HVAC Insulation
HVAC insulation is used with ductwork in commercial and industrial facilities. Standard HVAC products include duct liners, duct boards, and duct wrap. For facilities managers, custom HVAC insulation adds value by increasing building efficiency and meeting multiple requirements. For example, custom insulation can promote more consistent temperatures for reduced energy usage, dampen noise for quieter working conditions, and improve air quality for greater occupant comfort.
To create custom HVAC insulation, Elasto Proxy laminates materials with specific thermal, acoustical, and vibration dampening properties. We can also incorporate materials that meet UL94 standards or resist microbial growth. At our manufacturing center near Montreal, Canada, we use water jet cutting to create custom parts – including prototypes with quick turnaround times. Our skilled production team is adept at working with a variety of materials in form factors such as rigid boards, mats, sheets, tapes, and fabrics.
Choose HVAC Replacement Parts from Elasto Proxy
Do you need HVAC replacement parts in low-to-medium volume quantities for HVAC maintenance, repairs, or overhauls? For custom seals, gaskets, and insulation that add value to HVAC systems, contact Elasto Proxy.