FDA gasket materials are used in food contact applications such as commercial kitchens. They meet strict standards from the U.S. Food and Drug Administration (FDA), a regulatory agency that's responsible for protecting the public health by ensuring the safety and quality of many food products. The FDA's jurisdiction is limited to the United States, but FDA standards are followed worldwide.
FDA gasket materials for food contact applications are subjected to rigorous testing. They are non-toxic, non-marking, non-allergenic, and reliable over a wide range of temperatures. These compounds are also tasteless, odorless, and resistant to the natural growth of bacteria. Not all food-grade rubber is FDA approved, however, so it's important to choose gasket materials with care.
Food Grade, FDA Grade, FDA Compliant, or FDA Approved
In the United States, rubber gaskets that come into contact with food must be made of polymers that are on the FDA White List, a shorthand way of referring to the Code of Federal Regulations (CFR), Title 21, Chapter 1, Part 177. Substances are divided into those that are used as basic components, and those that are used only as components. This distinction may seem confusing, but so are terms like food grade, FDA grade, FDA compliant, and FDA approved. There's other terminology to consider, too.
Materials such as elastomers, which were once known as indirect food additives, are now called food contact substances (FCS). If an FCS contains multiple additives (as compounds do), then all of the additives must be approved in order for the compound to be approved. Many suppliers offer compounds that contain only FDA White List ingredients, but material composition alone doesn't make a gasket material FDA approved. The material must also pass tests for allowable extraction limits.
Earning FDA approval increases a material supplier's expenses and, in turn, raises the rubber's cost. Unless your project requires FDA approved rubber then, a less-expensive food grade compound or FDA compliant elastomer may be a better choice. Often, these materials are referred to as FDA grade rubber. No matter what they're called, these materials are FDA compliant rather than FDA approved – an important distinction in compound selection.
FDA Gasket Materials for Food Contact Applications
There are four types of rubber that are commonly used in food contact applications.
EPDM gaskets resist temperatures from -40° to 200° They have a smooth finish and are used in commercial kitchens, food processing plants, and grocery stores.
Neoprene gaskets repel oily or greasy food products. They have a temperature range of -30° F to 220° F. Like other FDA gasket materials, neoprene is available in white for a clean appearance.
Nitrile gaskets have a temperature range that's similar to neoprene. Buna-N, as this rubber is also known, resists heat aging and provides good puncture resistance.
Silicone gaskets combines thermal stability and resistance to high heat with low toxicity and low chemical reactivity. Applications include oven seals and cooling mats.
FDA gasket materials also include Viton®, PTFE, and other materials. Product designers and technical buyers need to choose compounds that meet all of their application requirements, but avoid "over-engineering" the gasket and adding unnecessary expenses.
FDA Rubber and Custom-Fabricated Gaskets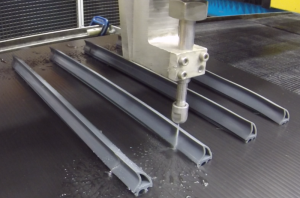 Compared to commodity rubber, FDA gasket materials are generally more expensive. Buying sheets, rolls, or profiles for in-house gasket fabrication may seem cost-effective, but engineers and sourcing managers need to account for the cost of material waste. With any type of gasket cutting, there are labor costs to consider, too. Plus, seals with poor-quality cuts can detract from the appearance of a finished product such as commercial kitchen equipment. In turn, potential buyers may question product quality.
Elasto Proxy custom-fabricates gaskets made of food grade, FDA grade, FDA compliant, and FDA approved materials. We can analyze your application requirements, help you with compound selection, and review your seal or gasket design. Our water jet cutting machine works right from your CAD files for fast, accurate digital manufacturing. There's no tooling or waiting for tooling either. Water jet cutting makes clean, precise cuts with tight tolerances, too.
To learn more about FDA gasket materials and how to get the custom gaskets that you need, contact us.