EPDM gaskets vs. TPE gaskets is a comparison that designers of environmental seals need to make. Ethylene propylene diene monomer (EPDM) and thermoplastic elastomers (TPE) both resist water, weather, ozone, and sunlight. These gasket materials also withstand a wide range of outdoor temperatures and are available in compounds that meet specific industry standards, such as for flammability. Both EPDM and TPE come in sponge and solid profiles and support the same gasket fabrication processes.
Contact Elasto Proxy if you're a  manufacturer who is comparing EPDM gaskets vs. TPE gaskets and need low-to-medium volumes. We are a custom fabricator that uses water jet cutting to cut sheet materials and profiles with speed and precision. There's no tooling to wait for or pay for, and we also offer value-added services such as kitting, custom packaging, and parts marking. As this article demonstrates, Elasto Proxy can also help you with material selection.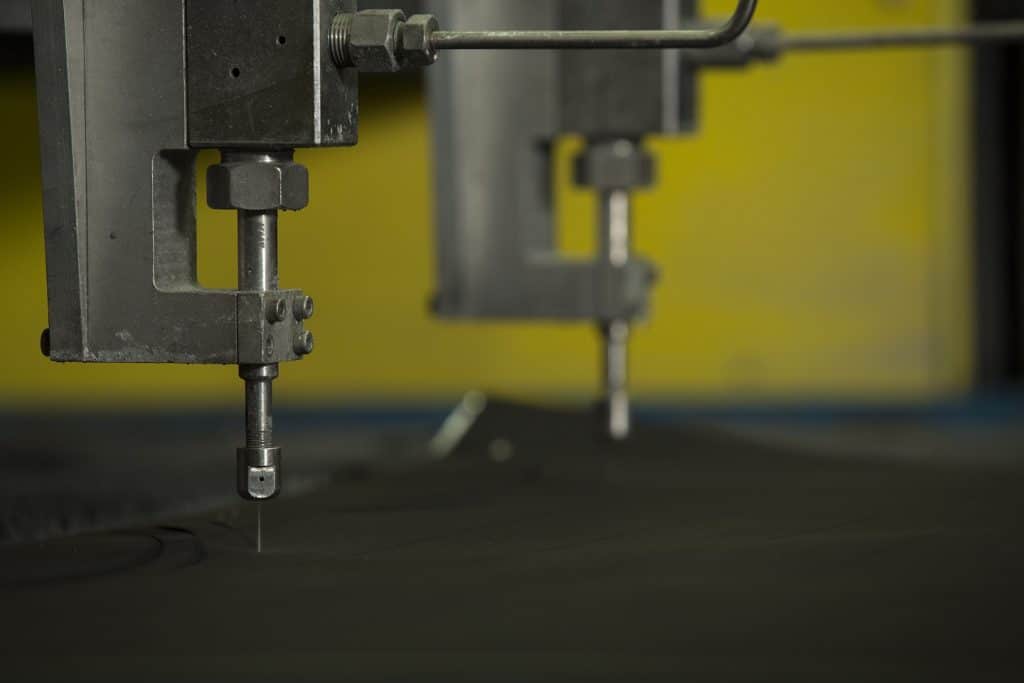 EPDM Gaskets
EPDM gaskets are made of a synthetic, weather-resistant elastomer that is a traditional choice for door and window seals. EPDM exhibits superior resistance to ultraviolet (UV) light and maintains its flexibility at low temperatures, a concern in cold-weather climates. EPDM gaskets can have a steel core for reinforcement but also offer a high degree of electrical insulation. For greater compressibility than solid seals can provide, EPDM foam rubber in hollow shapes can be used for gasketing.
The typical working temperature range for EPDM gaskets is from -50°F to +300°F (-45°C to 150°C) and up to +355°F (+180°C) in steam. The table blow describes EPDM's main properties.
| | |
| --- | --- |
| Compression Set | Good |
| Strength Properties | Good |
| Low Temperature Properties | Good |
| Abrasion Resistance | Good |
| Gas Permeability | Fair |
| Weather Resistance | Excellent |
| Ozone Resistance | Excellent |
| Chemical Resistance | Good |
| Heat Resistance | Excellent |
| Flame Resistance | Poor |
Elasto Proxy offers fire-rated EPDM bulb trim, a type of gasketing, that meets transportation industry requirements for flame, smoke, and toxicity (FST). These fire-resistant gasket materials are ideal for mass transit vehicles such as buses, subways, and railcars. EPDM gaskets are also available in compounds that provide UL 94 flame resistance.
EPDM costs less than TPE, but EPDM rubber is not recyclable. For sustainability and other important reasons, some manufacturers are now replacing EPDM with TPE. Let's take a look at TPE's other benefits.
TPE Gaskets
TPE gaskets are made of a group of rubber-like materials that combine the processing strengths of thermoplastics with the flexibility of thermoset rubbers. ISO 18064:2014 establishes six classes of TPEs based on their main ingredients.
Styrenic block copolymers, TPS (TPE-s)
Thermoplastic polyolefinelastomers, TPO (TPE-o)
Thermoplastic Vulcanizates, TPV (TPE-v or TPV)
Thermoplastic polyurethanes, TPU (TPU)
Thermoplastic copolyester, TPC (TPE-E)
Thermoplastic polyamides, TPA (TPE-A)
Not classified thermoplastic elastomers (TPZ)
Although most EPDM profiles are black, TPE profiles are available in just about any color you can imagine – including metallic and translucent colors. Custom colors support distinctive designs, but profiles with multiple or different colors also offer operational advantages and can promote efficiency.
For example, a TPE profile with multiple colors can use one of the colors as a visual cue to show installers where to drill holes. To support stocking and picking, manufacturer can buy smaller profiles in one color and larger profiles in another. 
TPE gaskets are also a good choice if you need recyclable materials or fully non-metal parts. Instead of a steel core, TPE seals from Elasto Proxy can use solid interior plastic. TPE's advantages also include flexibility, shock absorption, and slip, weather, and ozone resistance.
In addition to their higher cost, the disadvantages of TPE gaskets include their relatively poor recovery when exposed to heat and compression.    
EPDM Gaskets vs. TPE Gaskets Explained
Elasto Proxy can help you to analyze your application requirements and compare EPDM gaskets vs. TPE gaskets across parameters such as cost, environmental resistance, and sustainability. If you're a manufacturer who needs help comparing EPDM gaskets vs. TPE gaskets, contact us.