EPDM gasket fabrication supports environmental sealing and electrical insulation. Learn how Elasto Proxy custom fabricates EPDM profiles into finished EPDM rubber gaskets. Then, download the Sealing Essentials E-Book.
EPDM gaskets provide reliable, long-lasting environmental sealing in outdoor applications where sunlight, ozone, weather, and temperature extremes can challenge product designs. A type of synthetic rubber, ethylene propylene diene monomer (EPDM) is also a good electrical insulator. Suppliers offer molded and extruded EPDM rubber in a variety of stock forms (such as sheets and profiles), and custom fabricators create finished gaskets in different shapes and sizes.
Types of EPDM Profiles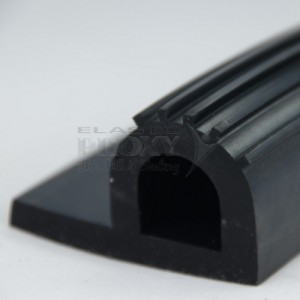 EPDM rubber can be molded into custom parts and sheets, or extruded into profiles for cost-effective custom fabrication. Compounders and material suppliers create EPDM profiles from sponge rubber and solid rubber in many different shapes, dimensions, and durometers (hardness). Specific profile types include C-channels, E-strips, J-seals, round and square cords, P-channels, U-channels, quad, strips, and zipper strips. Both open cell and closed cell EPDM sponge rubber is available.
Water Jet Cutting for EPDM Gaskets
EPDM profiles can be cut-to-size via die cutting, water jet cutting, and other methods. Water jet cutting is an excellent choice because this custom fabrication technique creates fast, precise cuts without long lead times or tooling charges. Here at Elasto Proxy, our water jet machine can make cuts as small as 1/2" x 1/2" and can create holes with diameters as small as 0.01". Smooth joints, dovetail cuts, and perfect 90-degree corners are additional benefits that water jet cutting provides.
Splicing and EPDM Rubber
Unlike guillotine cutting, water jet technology produces clean, non-beveled edges that are easy to bond. Elasto Proxy offers several different splicing solutions. Choices include film splicing, cold bonding, C-press injection molding, and vulcanizing. Each has advantages. For example, film splicing joins EPDM profiles without adhesives and does not require secondary trimming. Cold bonding creates angled parts. C-press molding is a good choice for square gaskets with radiused corners. Vulcanization is used for low quantities.
Taping and EPDM Gasketing
As an EPDM gasket fabricator, Elasto Proxy can also supply taped or bonded EPDM gaskets. For outdoor applications, 3M's heat activated taping system (HATS) is a good choice because HATS has strong weatherstripping capabilities. Pressure sensitive adhesive (PSA) tape is recommended for applications with rough or porous surfaces. No matter which type of taping you chose, you'll find that Elasto Proxy's bonded gaskets arrive ready to install right out-of-the-box.
Find EPDM Gasket Fabrication
Sealing challenges are complex and no two applications are the same. Do you need EPDM gaskets, or is another type of rubber seal a better choice? Plus, what about seal geometry, industry standards, and vendor selection? They're important to consider, too. To make the right decisions, you need a resource you can trust from a partner with experience. Download Elasto Proxy's Sealing Essentials e-book today.
Download the Sealing Essentials E-Book