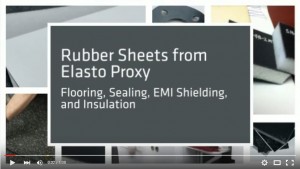 Rubber sheets aren't only used for flooring. They're also used for environmental sealing, EMI shielding, and sandwich-style insulation against heat, noise, and vibration. Choose standard sheet stock or specialty sheeting, and ask Elasto Proxy to use water jet cutting and laminating or adhesives to create your custom solution.
Rubber sheets are used for sealing and insulation in industrial, commercial, and military applications. Many different types of rubber sheet stock are available, but an off-the-shelf product may not be right for your application. By working with a custom fabrication specialist, industrial buyers and designer engineers can source standard or specialty elastomers and then have rubber sheeting cut to size. Elastomeric sheets with laminates or adhesives already applied can also speed sheet installation.
Rubber Sheets for Flooring
Rubber sheets are often used as flooring in vehicles, machinery, factories, cleanrooms, and kitchens. Elastomers aren't as strong as concrete or metal, so rubber sheets are used typically as a floor covering instead of for structural support. Examples include anti-microbial, anti-slip, and anti-fatigue floor mats. Depending on the rubber compound, elastomeric sheet stock can provide resistance to water, sunlight, chemicals, oils, abrasion, extreme temperatures, and microbes.
Rubber Sheets for Sealing, EMI Shielding and Insulation
Rubber sheets are also cut into gaskets for fuel and environmental sealing. Rubber sheet stock is also used for insulation against heat, noise, vibration, and electromagnetic interference (EMI), too. Specifically, metal-filled silicone sheeting can be cut to precise dimensions and used for EMI gasketing. Sometimes, EPDM rubber sheet stock is used as a layer in a sealing and insulation "sandwich". Typically, these sandwich-like composites also consist of foams, fillers or barrier materials, and adhesives.
Compounds and Specifications for Rubber Sheets
For industrial buyers and design engineers, compound selection is critical. Standard and specialty sheet stock is available in many different rubber materials, so buyers and designers need to compare each elastomer's properties to their application requirements. In addition to material properties such as hardness (durometer), you'll also need to consider product specifications such as sheet thickness. Often, the ability to conform to surfaces with flanges and bolt heads is required in flooring applications.
Types of Rubber Sheets
Elasto Proxy stocks many different types of rubber sheets, and can source specialty sheet stock to meet your specific application requirements. Using our water jet cutting machine, we make fast, precise, cost-effective cuts without long lead times or tooling charges. Elasto Proxy can also apply laminates or adhesives to sheeting to help speed installation. Are standard rubber sheets made of EPDM or silicone right for your application? Do you need custom rubber sheets made of blends instead?
EPDM Sheets
EPDM sheets are made of ethylene propylene diene terpolymer (EPDM), a durable synthetic rubber that resists water, sunlight, and temperatures ranging from -50°C to 150°C. Additional applications for EPDM sheeting include weather resistance and noise reduction. EPDM rubber isn't right for every sealing and insulation application, however. For example, EDPM sheet stock is not recommended for environments with exposure to gasoline, kerosene, concentrated acids, and halogenated solvents.
Silicone Sheets
Silicone sheets are an excellent choice for high-temperature, low-temperature, or sanitary applications. Silicone rubber also provides resistance to weather, UV light, and some chemicals. By filling elastomers with metal particles, compounders create silicone sheet stock that provides EMI shielding. Elasto Proxy can source these gasket materials, and also custom-fabricate FDA approved silicone sponge rubber. Applications include baking mats that keep food items from coming into contact with kitchen surfaces.
Rubber Sheets Made of Blends
In addition to standard rubber sheets, Elasto Proxy can provide custom rubber sheets made of special elastomeric blends. For example, to produce compounds with the best properties of silicone and EPDM, mixers add the rubbers in specific proportions to a two-roll mixing mill. Silicone-EPDM blends can't withstand the high temperatures of silicones, but they provide greater temperature resistance than EPDM alone. Silicone-EPDM blends are also tougher than silicone, but not as tough as EPDM alone.
The Case for Custom Fabrication
What kind of rubber sheets do you need? Are you looking for EPDM sheets, silicone sheets, or even SBR sheets? Do you need to source specialized compounds that are fireproof, anti-microbial, or that meet FDA requirements for food-safe rubber? Elasto Proxy can help you with compound selection, and then custom-fabricate rubber sheets to your precise specifications.
Learn more about how our custom fabrication capabilities add value to your operations. Download Elasto Proxy's Make It or Buy It? white paper today.
Clyde Sharpe
General Manager at Elasto Proxy