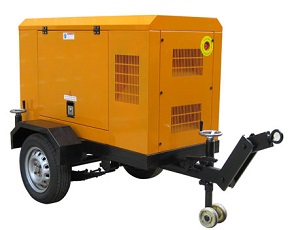 Gensets or generating sets are designed to supply off-grid electricity. They usually consist of a diesel or gasoline-powered engine and an electrical generator (such as an alternator) that converts mechanical power into electricity. Some gensets, such as the ones that provide emergency backup power at hospitals and water treatment plants, are large and stationary. Others gensets are portable because they're wheeled, or are mounted on wheeled trailers that are pulled by trucks or other motorized vehicles.
Rubber Parts for Gensets
Large gensets for military, industrial, and commercial applications typically feature metal enclosures that house the engine, electrical generator, and sensitive components such as electronics. Metal doors provide access to the genset, but require rubber door seals. Because big diesel engines are loud, acoustic insulation is required. Typically, elastomeric foams are used. Large, portable gensets that are trailer-mounted and truck-driven also need rubber bumpers that can protect the unit against impact.
Genset Door Seals
Sealing the doors on gensets isn't a job for just any rubber product. Static seals are fine when there's no relative motion between mating surfaces, but dynamic seals are recommended when there's motion or movement between sealing interfaces such as a metal door and a door frame. Temperature changes can cause the sheet metal for a genset enclosure to expand and contract, too. That's why Elasto Proxy custom-fabricates rubber door seals from the right elastomers and to your precise specifications.
Genset Insulation
Acoustic insulation absorbs, transmits, or redirects sound waves – vibrations in the air that pass through objects and result in audible sound. Noise, or unwanted sound, is measured in decibels and has a specific frequency distribution. By fabricating acoustic insulation that's "tuned" to address the frequencies in your genset application, Elasto Proxy can help you to meet requirements such as workplace limits for noise exposure. In addition to sound absorbers, we custom-fabricate sound barriers and vibration dampers, too.
Genset Bumpers
Rubber bumpers absorb energy from low-speed collisions and low-force impacts while helping to keep genset trailers on the road instead of in the shop. These rubber parts cost less than truck or trailer repairs, and are easy-to-install with standard metal fasteners such as screws, bolts, and washers. All of the genset bumpers that Elasto Proxy supplies have embedded washers and attach with standard fasteners. Through proper compound selection, genset bumpers can resist the outdoor elements, too.
Genset Parts and Custom Fabrication
Elasto Proxy custom-fabricates low-to-medium volume quantities of genset parts such as door seals, rubber bumpers, and acoustic insulation. At our manufacturing center near Montreal, Canada, we use waterjet cutting, laminating, splicing, and taping to create value-added solutions:
Waterjet cutting converts rubber sheets and profiles cost-effectively – and without tooling costs or waiting for tooling.
Lamination supports the creation of multi-layer "insulation sandwiches" made of acoustical materials with exactly the right combination of properties.
Splicing produces strong joints, corners, and ends. In addition to film splicing and vulcanizing, Elasto Proxy offers fast, efficient infrared splicing.
Taping creates peel-and-stick gaskets that are easy to apply on your genset assembly line, or right in the field.
Find Value-Added Solutions for Gensets
In addition to custom fabrication, Elasto Proxy can store your finished genset parts in our North American warehouses and ship them to you according to your sales forecasts or on demand. So whether you're working on a new genset design or looking for a custom fabricator who can make high-quality but cost-effective replacement parts, ask Elasto Proxy about door seals, acoustic insulation, and rubber bumpers.
Not sure if custom-fabricated parts are the right choice for your genset application? Then download our free white paper, Make It or Buy It? The Business Case for Custom Fabrication?, for more information.