Rubber tubing is used in fluid transport and for electrical protection. Applications include shock absorption and low compression force sealing. Different elastomers have different properties, so design engineers and technical buyers need to choose rubber tubes carefully. Specifications such as durometer (hardness) and inner and outer diameter are especially important to consider.
By choosing the right rubber compound for industrial tubing, you can strengthen your company's product designs. You can also control costs by selecting rubber tubes that are cut-to-size and ready-to-install. Metal tubes resist high temperatures and provide physical strength, but they cost more than rubber tubes. Plus, metal tubing may be subject to rust, corrosion, or scaling.
Three Types of Rubber Tubing
For shock absorption and low compression force sealing, there are three rubber compounds that are commonly used in industrial tubing.
Each of these elastomers has its advantages, but which rubber is the right choice for your sealing and insulation application? In this article from Elasto Proxy, we explore answers to this important question. For help with your own specific application, contact us.
Silicone Tubing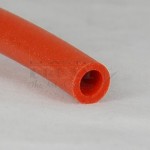 Silicone tubing from Elasto Proxy provides good resistance to water, weather, high and low temperatures, and many common chemicals. Silicones, a family of synthetic rubbers, are available in different formulations and a range of durometers. Elasto Proxy can also source silicone tubes in various colors (including white or orange) to support your larger product designs.
Silicone tubes are used in medical devices and food and beverage equipment. Medical applications include neogastric feeding equipment and continuous positive airway pressure (CPAP) machines, medical devices for treating obstructive sleep apnea (OSA). Food-safe silicone tubes are used in kitchen appliances such as refrigerators and coffee makers.
Neoprene Tubing
Neoprene tubing from Elasto Proxy remains flexible at low temperatures and is flame-resistant. Neoprene, a tough and durable elastomer, also provides strong cut-through and abrasion resistance. Importantly, neoprene tubes can withstand many common petroleum derivatives.
Often, neoprene tubing is used in applications that require ozone, sunlight, and oxidation resistance. Neoprene compounds that meet mass transit industry standards for flame, smoke, and toxicity (FST) are a good choice for buses, subways, and railways.
EPDM Tubing
EPDM tubing from Elasto Proxy provides outstanding resistance to heat, ozone, and weathering. Tubes made from this synthetic rubber also resist industrial chemicals such as hydraulic fluids, solvents, and some acids.
In addition to providing excellent flame resistance and low-temperature flexibility, EPDM rubber provides electrical insulation and high tensile strength. Additional applications for EPDM tubing include mobile equipment, machinery, and heating and cooling systems.
Choose Rubber Tubes from Elasto Proxy
Elasto Proxy keeps many different types of rubber tubing in stock. We can also order custom tubing and cut tube lengths to size for tube rings, an efficient way to reduce mechanical vibrations. Our water jet cutting machine makes fine, fast cuts and is ideal for low-to-medium volume production.
For more information about industrial tubing and the many other rubber products that we offer, get the Extruded Rubber Products Catalog.