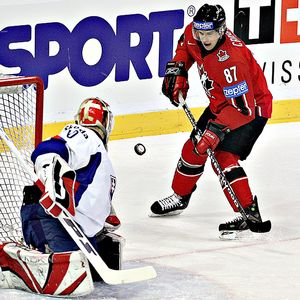 Doug Sharpe
President of Elasto Proxy
What's your favorite Winter Olympic sport? Do you enjoy watching bobsled and luge runs because of the aerodynamics involved? There's a fair amount of material science, too, as the engineers at BMW can attest. At Sochi next month, Team USA will race a carbon fiber bobsleigh that was designed by the German automaker.
Here in Canada, we enjoy all of the Winter Olympic sports, but have a special interest in ice hockey. It's our national winter sport after all, and Team Canada won the gold medal in 2010. Like bobsledding and the luge, hockey requires speed, strength, and athletic talent. The equipment that hockey players wear must promote performance and provide protection – and that's where material science hits the ice.
Hockey Helmets and Helmet Inserts
As the co-founder and co-owner of a company that custom-fabricates rubber and plastic products, I'm always interested in the role that polymers play. For hockey fans, one of Elasto Proxy's most interesting projects was custom-fabricating the EVA foam that's used in hockey helmet inserts. The helmet's shell itself is made of a lightweight plastic, typically a polycarbonate material.
Hockey helmets are important, but they're just one piece of equipment. Players need sticks and skates,  as well as other types of protective gear. The Olympics organization sets the rules for what players can and must wear, so let's take a look at where else polymers are used. Even with hockey sticks and skates, there's more than meets the eye.
Hockey Skates and Hockey Sticks
Many hockey skates feature a ballistic-proof nylon that provides greater protection against cutting than natural leather, a traditional boot material. Used in the upper boot, this nylon knit is a synthetic polymer that provides water resistance. Nylon is also a thermoplastic – and it's not the only one used in hockey skates. Today, molded plastic boots with plastic stanchions and plastic tubing are also available.
According to the Olympic organization's website, hockey sticks can also be made of plastic as long as the edges are beveled and free of projections. A stick's curve cannot exceed 1.5-cm, but tape can be applied anywhere on the shaft or the blade. Hockey sticks can be made from other materials, including wood, metal, and Kevlar. Given these options, will we see any plastic hockey sticks at Sochi?
Hockey Protective Equipment
In the Part 2 of this series about Olympic ice hockey, we'll examine how polymers are used in hockey protective equipment: elbow pads, gloves, shin guards, and shoulder pads. We'll also explore why hockey pucks slide across the ice – and why it hurts so much when you get hit by one.