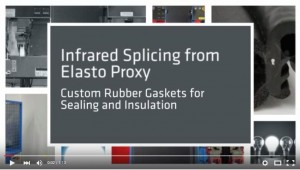 Infrared splicing isn't the same as hot splicing, but both joining techniques offer advantages. Which splicing technique is right for your custom rubber gaskets – and how do these film splicing methods compare to cold bonding?
Splicing joins lengths of extruded rubber to create elastomeric products such as hollow O-rings, low-closure force seals, and large-diameter profiles that are too expensive to mold.  Splicing methods vary, and choices include film splicing, cold bonding, C-press injection molding, and vulcanizing. By working with an experienced gasket fabricator, you can select the right splicing technique for your application.
Each splicing method offers advantages, but film splicing creates strong bonds without adhesives. This joining method also supports fast cycle times and creates strong corners that won't crack. Film splicing isn't new, but it's important to understand how infrared splicing compares to traditional hot splicing. For larger seals, more durable splices, and an alternative to molded parts, IR splicing is a strong choice.
How Hot Splicing Works
Hot splicing uses heat, pressure, and polyethylene film to join lengths of EPDM, SBR, NBR, TPE, silicone, and other rubber materials. Special presses call film splicers are available in single-unit stations and in carousel or line configurations. The plastic film is fed manually or released from a dispenser. With multi-unit splicing lines, the film dispenser may travel between presses
With traditional hot splicing equipment, a heated clamp holds the plastic film and the rubber part or parts in place. Endless seals such as O-rings can be created by joining the ends of a single length of rubber cord. Custom fabricators can also produce four-corner spliced picture frame gaskets (bezel gaskets) from rubber profiles with 45° miter cuts. Hot splicing also supports 90° joins in rubber parts like this bulb seal.
Hot Splicing and Cold Bonding
Hot splicing is fast and efficient, but traditional production techniques can pose challenges. After clamping the rubber and starting the heater, an operator must wait for the plastic film to cure. Multi-unit lines let operators move onto subsequent splicing units, however, and promote overall efficiency. Yet there are other factors that cause some gasket buyers to choose a joining method such as cold bonding instead.
When hot splicing occurs after taping, it's important to cool the splicer's clamping mold to protect the tape's pressure-sensitive adhesive (PSA). Reciprocating water coolers work well, but cooling jackets can add tooling costs. Cold bonding doesn't add these expenses and is great for angled parts; however, cold bonding is best-suited for seals that won't be exposed to high temperatures or outdoor environments.
Advantages of Infrared Splicing
Infrared splicing helps to solve these film splicing challenges. Instead of heating the metal clamping molds, an infrared splicer uses IR light to heat the entire surface. This light-based heating technique uses less energy than traditional heaters, and creates strong bonds in the flash of a lightbulb. Importantly, IR splicing also supports precise part alignments without degrading PSA tapes or film liners.
Unlike cold bonding, infrared splicing also eliminates time-consuming, manual operations that can introduce inconsistencies. Advantages of IR splicing include press clamping range, too. Molds that are three times wider allow gasket fabricators to make 3 to 4 splices at a time instead of just 1 or 2. Plus, it's easier to hold down large, complex shapes with infrared splicing.
How to Splice Rubber Gaskets
Ten years ago, Elasto Proxy acquired a multi-unit film splicer that opened up new production possibilities. More recently, we've acquired a single-unit infrared film splicer with state-of-the-art capabilities. Different splicing methods offer different advantages, but which splicing technique is right for your application? For answers to all of your questions about spliced rubber gaskets, ask Elasto Proxy.