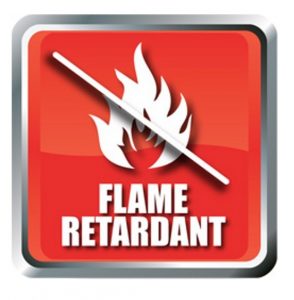 Flame retardant rubber helps to protect people and property from the devastating effects of fire. By stopping or slowing the spread of flame, these elastomers reduce the rate and intensity of burning. They can also limit the release of smoke and toxins while increasing the amount of time that people have to escape from life-threatening situations. Applications for these specialized compounds include electronic enclosures and the interiors of buses, trains, and subways.
For engineers, it's important to understand that all flame retardant rubber is not the same. There are different classes of flame retardants, chemicals that are added or applied during compounding. There are also different flammability standards by industry and within the same industry. For example, the mass transit industry has so many different flame, smoke, and toxicity (FST) standards that simply asking for an "FST compound" or "flame retardant rubber" risks getting you the wrong material.
Flame Retardant Rubber for Vehicle Interiors
Buses, trains, and subways use flame retardant rubber in overhead compartments, roof liners, passenger seating, sidewalls, ceiling panels, flooring, electrical and electronic cable coverings, and internal structures such as dashboards and instrument panels. The mass transit industry also uses flame retardant seals, gaskets, and insulation with on-board electronics and electrical equipment.
FST standards for railcar rubber products vary, however. Some standards test for different chemicals, or allow releases of the same chemical in different concentrations. Test results can be reported as pass/fail or with a percentage. Different protocols – such as the length that a bulb trim seal burns – are used, too. Often, the standards in one country or region differ from those used in other parts of the world. Local transit authorities can write their own FST standards, too.
At global companies, engineers may need to familiarize themselves with many different standards. For example, NF F 16-101 and NF F 16-102 are French national standards that apply to the fire-testing of railway components. BS 6853 is a British national standard for fire-testing railways parts. Germany, India, China, and Japan have their own FST standards, too.
In North America, many FST standards reference three tests from ASTM International, a leading international standards organization.
ASTM E162 measures surface flammability.
ASTM E662 measures the optical density of smoke.
ASTM E1354 measures release rates for both heat and visible smoke.
North American standards may also require compliance with SMP 800-C, a standard from Bombardier that measures toxic gas generation.
Flame Retardant Rubber for Electronic Enclosures
Manufacturers of electronics and electrical devices use flame retardant rubber in appliances such as refrigerators, washers, and dryers. Computers, laptops, and portable digital devices also contain seals, gaskets, and insulation made of flame retardant elastomers. For commercial and industrial applications, flame retardant rubber is used in the electrical and electronic enclosures that house instruments and equipment.
Underwriters Laboratories (UL) maintains many different safety standards, but its UL 94 standard for flammability is recognized worldwide. UL 94 defines 12 different UL flame ratings for rubber and plastic materials. The most common classifications are UL 94 V-0, UL 94 HB, and UL 94 HBF. The V and HB designations indicate whether a material specimen was subjected to either a vertical (V) or horizontal (HB) burn test. When considering which UL 94 standards may apply to your design, consider the following:
UL 94 V-0 applies to both rubber and plastic, and to both solid and foam materials.
UL 94 HB applies to rubber and is generally considered the easiest flame rating to achieve.
UL 94 HBF applies to foams and contains multiple flammability ratings.
For engineers, it's also important to understand that UL approved materials typically cost more and have higher minimum order quantities (MOQs). Compounds that are described as "capable of passing UL 94" or "compliant with UL 94" probably don't have a UL yellow card – proof that Underwriters Laboratories (UL) has tested and recognized the material – but may cost less.
Fire Retardant Rubber from Elasto Proxy
Do you have questions about flame retardant rubber for seals, gaskets, or insulation? If your application is for the mass transit industry, ask Elasto Proxy about certified transit grade (CTG) seals that meet ASTM E162, ASTM E662, ASTM E1354, and SMP 800-C requirements. If you need sealing solutions for electronic enclosures, ask us about UL gasket materials and our custom-fabrication capabilities.