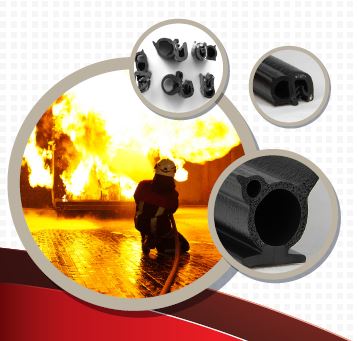 Philippe Grenier
Production Coordinator at Elasto Proxy
Subway, bus, and railcar designers prefer lightweight rubber materials, but some combustion reactions can produce dangerous toxins. Reducing a vehicle's weight can help cut fuel consumption, but material selection shouldn't come at the expense of passenger safety. Technical buyers and part designers in the marine and aerospace industries share these concerns. Boats, ships, helicopters, and airplanes also need fireproof rubber parts such as seals, mats, gaskets, hose, flooring, and insulation.
Rubber Parts and the Right Partner
Fireproof rubber isn't something that most passengers notice, but it's all around them. Specialty elastomers are used in door and window seals, floor coverings and ceiling liners, and interior vehicle components such as wall panels, seat pads, and mattress frames. Fireproof rubber is also used in the cellular foams for armrests, acoustic insulation for passenger cars, and thermal insulation for engine bays. Outside the vehicle, rubbers parts such as end caps and roof housings must resist fire, too.
For designers and buyers in the mass transit, marine, and aerospace industries then, choosing the right rubber is critical. Standard, off-the-shelf profiles are available, but custom-fabrication may be required. By partnering with a supplier who listens to your needs and analyzes your safety requirements, you can strengthen your supply chain. Yet it's also important to pick a partner who understands how fireproof rubber products are specified, and what different fire safety standards mean.
Flammability, Toxic Gases, Heat Release, and Smoke Development
The UL 94 flame rating from Underwriters Laboratories (UL) classifies rubber materials according to how they burn when vertical or horizontal, and in different thicknesses. For example, UL 94-HB is a horizontal burn test for specimens thicker than 76 mm. UL VTM-0 is a vertical burn test, but for materials that are too thin for flame tests such as UL V-0. For technical buyers then, choosing UL listed gasket materials may require an analysis of application requirements for material thickness and part orientation.
In the mass transit industry, meeting the Bombardier SMP 800-C standard for toxic gas sampling and analytical procedures is also critical. Using a calibrated chamber for smoke generation testing, this test measures the concentration of various gases (such as carbon monoxide) in both flaming combustion and non-flaming thermal decomposition modes. Fire, smoke, and toxicity (FST) tests for buses, subways, and railcars may also include ASTM E1354, which measures heat release and smoke development.
Tests, Standards, and Industry Requirements
UL 94, Bombardier SMP 800-C, and ASTM E1354 are important, but they're not the only standards for fireproof materials. Depending on your industry, location, and customer, other tests and standards may apply. For example, aerospace engineers may need to source materials that meet ABD 0031, the Airbus standard for fire testing, flammability, smoke, and toxicity. Boeing also maintains its own fire testing standards: BSS 7238 for smoke density, and BSS 7239 for toxicity.
For marine buyers, the International Maritime Organization (IMO) provides a nine-part fire testing standard with a special focus on normal flammability, smoke density, and smoke toxicity. NFPA 130:2010 from the National Fire Protection Agency (NFPA) is designed for fixed guideway transit and passenger rail systems, but incorporates ASTM standards as well as Bombardier SMP 800-C, BSS 7238, and BSS 7239.
For both the automotive and mass transit industries, FMVSS 302 from the U.S. National Highway Safety Traffic Administration (NHTSA) specifies burn resistance requirements for materials used in occupant compartments. Technically equivalent to ISO 3795 and ASTM D5132-04, FMVSS 302 applies to buses, trucks, passenger cars, and multi-purpose passenger vehicles. The purpose of FMVSS 302 is to reduce deaths and injuries caused by vehicle fires, especially those originating in a vehicle's interior.
How Can We Help You?
As a growing global company with partners in a wide variety of industries, Elasto Proxy can help you to source fireproof rubber products for mass transit, marine, and aerospace applications. Ask how we've helped retrofit railcars with neoprene door seals, and can supply custom composite insulation and self-extinguishing firestocks. Our solutions providers can also source specialty silicones, fireproof foams and extrusions, and hard-to-find fire-rated bulb trims.
So how can we help you? For more information, please contact us or request a quote. Join the conversation on our social media sites, too. Look for a post with a link to this blog entry on LinkedIn, Facebook, Google+, and Twitter. Elasto Proxy also has a YouTube channel, too. Finally, please subscribe to our free e-newsletters. They're a great source of information delivered right to your email inbox, and they provide links to blog entries like this one.