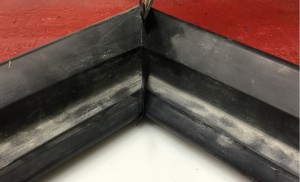 In this case study, you'll learn how Elasto Proxy provides complete sealing solutions to manufacturers of water filtration systems. Rubber gate seals start with seal design and compound selection, are crafted with water jet cutting and infrared splicing, and add value with inventory management and shipping.
In wastewater treatment plants, metal gates are bolted to concrete frames to control flow and channel the effluent for disinfection. To prevent leakage, a rubber seal is fitted to the bottom of the frame. This seal attaches to the gate with bolts, and must withstand prolonged exposure to water and contact with a concrete base. In water filtration systems that use ultraviolet (UV) light, UV resistance is essential.
When a manufacturer of water filtration systems wanted a custom gate seal, Elasto Proxy provided more than just a replacement part. First, our solutions providers listened to the manufacturer's requirements and analyzed all of their needs. Our technical team then applied its expertise in compound selection, and identified a seal design that could solve the manufacturer's specific sealing challenge.
Next, our skilled production personnel in Boisbriand, Quebec used water jet cutting and infrared (IR) splicing to craft a custom sealing solution. Yet that's not where this case study ends. Today, Elasto Proxy stocks rubber gate seals for water filtration systems at our warehouse in Newmarket, Ontario. To meet our partner's business requirements, we ship quantities according to their annual sales forecasts. (more…)