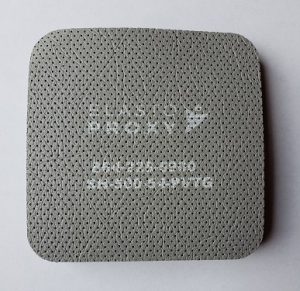 Sound absorbers are custom acoustic insulation that absorbs sounds instead of blocking or damping them. They're made of foams and facings and used at the source of the sound and at its receiver. To choose the right noise control solution, engineers need to understand how sound absorbers work, which types are available, what questions to ask during material selection, and how sound absorbers are made.
How Sound Absorbers Work 
Sound absorbers are made of open cell acoustical foams that can be combined with specialized facings. The sound energy that passes through the foam's cells is converted into small amounts of low-grade heat that's dissipated easily. The foam's acoustical performance is predictable because the material's manufacturer carefully controls the uniformity of each cell.
The facings that are used with these acoustical foams are like control knobs that allow sound absorbers to tune-out specific frequencies. Examples include the low-frequency rumble of a diesel engine or the high-pitched squeak, squeal, or whine of industrial machinery. A sound absorber's facing can also provide a decorative, durable, or cleanable finish.
Sound Absorber Types 
Most sound absorbers are made of polyester, polyurethane, urethane, or melamine foams. To meet fire safety requirements, some sound absorbers use polyimide foams instead. Vinyl and aluminum foils are common facing materials. Vinyl can absorb low frequencies and supports ease-of-cleaning. Aluminum foil reflects radiant heat and provides thermal insulation.
With mobile equipment, a vinyl-faced sound absorber might be used in the cab while a foil-faced sound absorber is used in the engine bay. Other examples of sound absorbers include:
Un-faced polyester or polyurethane foams for maximum sound absorption
Aluminized polyester faced foams for hostile environments that must remain clean
Urethane faced foams that reduce the ingress of dirt, particles, and debris
Convoluted foams with increased surface area for enhanced sound absorption
These are just a few of the many sound-absorbing solutions that are available.
How to Select Sound Absorbers
To choose the right sound absorber, engineers need to ask and answer a series of questions about acoustic insulation. Each application is different, but this list is a good place to begin.
What is the maximum insulation thickness that your application can support?
Are you trying to insulate an area where there's air flow resistance, or can air flow in and out?
Do you need facing materials that can absorb a specific frequency or frequencies?
Do you need facing materials for protection? If so, what are you protecting against?
If the sound absorber must provide flame resistance, what is the flame rating you need to meet?
Will the acoustic insulation remain stationary, or be subjected to opening, closing, and bending?
Will you add sound absorbing materials to structural components where there's vibration?
How Sound Absorbers Are Made
Sound absorbing materials are supplied as sheets or rolls in various lengths, widths, and thicknesses. Using water jet cutting, a fabricator can cut materials to size without knives or dies – tooling that adds costs to projects. First, however, the fabricator can laminate different sound absorbing materials together to create an insulation "sandwich" with particular properties.
For example, a fabricator can laminate a vinyl facing to a polyurethane foam. Then, on the other side, the fabricator may apply a pressure-sensitive adhesive (PSA) with a removable liner. The resulting product looks like an insulation "sandwich" with the facing on top, the liner on the bottom, and the foam in the middle. This sound absorber stops low-frequency sounds and is easy to install and clean.
Find Sound Absorbers for Noise Control
The article you've been reading is the second in a series about how to stop noise with custom acoustic insulation. Future articles will examine barriers and dampers. In the meantime, please contact Elasto Proxy for more information. You can also ask for the Elasto Bag to see samples for yourself.