Mass transit maintenance organizations need to make cost-effective repairs to buses and trains. Public transit authorities and maintenance, repair and overhaul (MRO) companies also want to source replacement parts in low-to-medium volume quantities. Original equipment manufacturers (OEMs) can supply these custom rubber products, but usually at higher prices than sourcing managers want to pay. The minimum order quantities (MOQs) may be more than maintenance crews need, too.
Elasto Proxy offers a cost-effective alternative to OEM pricing and MOQs. For custom seals and specialty insulation, Elasto Proxy supplies rubber products in low-to-medium volume quantities. In addition to custom fabrication, we provide design assistance and help with material selection. If you don't have a drawing for the rubber part that you need to replace, just sent us a sample and we'll create a CAD file. We can also recommend the right rubber and determine the most cost-effective MOQ.
Mass Transit Maintenance and Custom Fabrication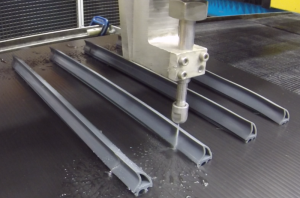 Elasto Proxy's custom fabrication capabilities add value to your mass transit maintenance projects. Our water jet cutting machine makes fine, fast cuts without tooling charges or long lead times. Water jet cutting is great for prototyping, too. Gasket splicing creates strong joints, corners, and ends. Taping supports peel-and-stick gasket installation. Lamination creates sandwich-like structures with the right combination of properties for thermal and/or acoustic insulation.
For over 25 years, Elasto Proxy has custom-fabricated a variety of rubber products for the mass transit industry. Examples of our sealing and insulation solutions for buses and trains include door seals, window channels, window gaskets, and aluminum foil-faced insulation. We can supply rubber bumpers and floor mats, too. By sourcing rubber products like these from Elasto Proxy, mass transit organizations can reduce costs, ensure quality, and support their maintenance programs.
Door Seals
Door seals for buses and trains include dual-durometer bulb trim. The bulb provides sealing and insulation under compressive force, and the retainer or trim section presses onto the flange or substrate. Door seals that are made certified transit grade (CTG) rubber consist of a special EPDM compound that resists flame, smoke, and toxicity (FST). Developed by Elasto Proxy in partnership with a trusted supplier, this elastomer has been tested and certified by an independent laboratory.
Window Channels
Window channels hold glass in place or help to secure window frames to train or bus bodies. These rubber products also seal out wind and weather, reduce or eliminate noise and vibration, and promote passenger comfort and safety.  Elasto Proxy cuts window channels to sizes so that they're easy-to-install with hand tools and lubrication. Locking channels, self-locking channels, glazing seals, and zipper strips are made of EPDM rubber in durometers ranging from 50 to 80 Shore A.
Window Gaskets
Window gaskets are custom-fabricated with water jet cutting and film splicing, a joining technique that creates strong bonds without adhesives or secondary trimming. This one-step process also closes gaskets without inserts. Window gaskets that are spliced and then taped are easy for maintenance personnel to install because no tools or fasteners are required. In addition to spliced gaskets, Elasto Proxy can supply molded window gaskets for buses and trains.
Aluminum Foil-Faced Insulation
Insulation for mass transit maintenance projects includes composite materials with aluminum foil facings. Thin-gauge aluminum foil can reflect significant amounts of radiant heat and provide a moisture barrier. By laminating thermal and/or acoustical materials together, Elasto Proxy can create complete solutions for heat and noise. Examples include engine bay or engine compartment insulation that also helps to reduce vibrations.
Bus Parts and Train Parts from Elasto Proxy
Are you seeking a cost-effective alternative to OEM pricing and MOQs for rubber bus parts and train parts? Elasto Proxy can create the custom rubber products that you need. For more information, contact us.