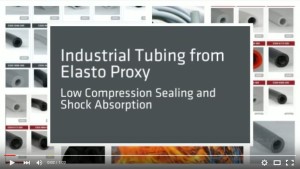 Industrial tubing that's made of rubber or plastic provides low compression force sealing and shock absorption. So whether you're thinking about replacing metal tubing, or wondering which type of rubber tubing or plastic tubing is right for your application, Elasto Proxy is ready to help.
Industrial tubing is used in fluid transport, electrical sheathing, and structural applications. Metal tubes resist high temperatures and provide physical strength, but typically cost more than rubber or plastic tubes. Some metals are also subject to rust, corrosion and scaling – problems that can reduce flow rates and cause higher pressure drops. For industrial buyers and design engineers then, choosing the right type of industrial tubing begins with material selection. What type of tubes do you need for your application?
Rubber Tubing Materials
Rubber tubing provides low compression force sealing and shock absorption under various environmental conditions. To reduce mechanical vibrations, lengths of standard tubing can be cut into tube rings so that the entrained air acts as a shock absorber and aids in recovery. The rubber compound that you select determines material properties such as temperature, chemical, and abrasion resistance. Typically, elastomers such as silicone, neoprene and EPDM are used in rubber tubes.
Silicone Tubing 
Silicone tubing in an excellent choice for high-temperature or sanitary applications. Silicone tubes also provide resistance to weather, UV light, and some chemicals. A family of synthetic rubbers, silicones may be rated for use as medical tubing or designated as food-safe. For example, FDA approved silicone tubing is used in applications such as neogastric feeding and in consumer products such as coffee makers. Silicone rubber tubes are also used with industrial equipment that transports high-temperature fluids.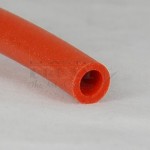 Neoprene Tubing
Neoprene tubing remains flexible at low temperatures and is flame-resistant. Tough and durable, this synthetic rubber provides strong cut-through and abrasion resistance, and can withstand many common petroleum derivatives. Often, neoprene tubing is used in applications that require ozone, sunlight, and oxidation resistance. Neoprene compounds that meet mass transit industry standards for flame, smoke, and toxicity (FST) are used in buses, subways, and railways.
EPDM Tubing
EPDM tubing provides outstanding resistance to heat, ozone, and weathering. Tubes made from this synthetic rubber also resist industrial chemicals such as hydraulic fluids, solvents, and some acids. In addition to offering excellent flame resistance and low-temperature flexibility, EPDM rubber provides electrical insulation and high tensile strength. Automotive, building and construction, and other applications for EPDM tubing include heating and cooling systems.
Plastic Tubing Materials
Plastic tubing can replace metal tubing in some industrial, commercial, and residential applications. Low-maintenance and cost-effective, plastics won't rust and feature a smooth, clean, interior. Plastic materials can't match the maximum temperatures and pressures of metals, but are stronger and rated for higher temperatures than some industrial buyers realize. Typically, polymers such as nylon, polyethylene (PE), polypropylene (PP), polyurethane (PU), polyvinyl chloride (PVC) and vinyl are used.    
Plastic Tubing Applications
Nylon tubing resists chemicals and corrosion, and is used with chemical solvents and flammable fluids. PE tubing resists hot and cold temperatures, and is used with non-potable water supplies such as sprinkler systems. PP tubing is used in vacuum systems and resists chemicals, UV, weathering, and ozone. PU tubing provides good abrasion resistance, high tensile strength, and low-temperature flexibility. PVC tubing is rigid, pressure resistant, and used in cold water supplies. Vinyl tubing resists a wide range of chemicals.
What Type of Industrial Tubing Do You Need?
Elasto Proxy supplies standard lengths of industrial tubing, and uses water jet cutting to create tube rings and application-specific lengths. We keep a wide variety of non-metallic tubes in stock, and can recommend the right rubber or plastic material for your application. How can we help you? For more information about our standard products, please visit the Industrial Tubing page of our website.
I hope you've enjoyed this article. Please contact me if you have any questions.
Clyde Sharpe
General Manager at Elasto Proxy