Aircraft seals and gaskets fill the spaces between mating surfaces on civilian, military and commercial airplanes. Depending on their specific application, these components can provide:
environmental sealing
fuel and oil resistance
shielding against electromagnetic interference (EMI) or radio frequency interference (EMI)
noise reduction and vibration damping
barriers against fire or flame
high temperature or low temperature resistance
Elasto Proxy, an AS9100D certified manufacturer of aviation parts, supplies aircraft seals and gaskets to manufacturers of jets, turboprops, helicopters, and other types of both manned and unmanned aircraft. We also provide aviation maintenance, repair, and overhaul (MRO) organizations with the replacement parts that they need. Keep reading to learn more or contact us for a quote.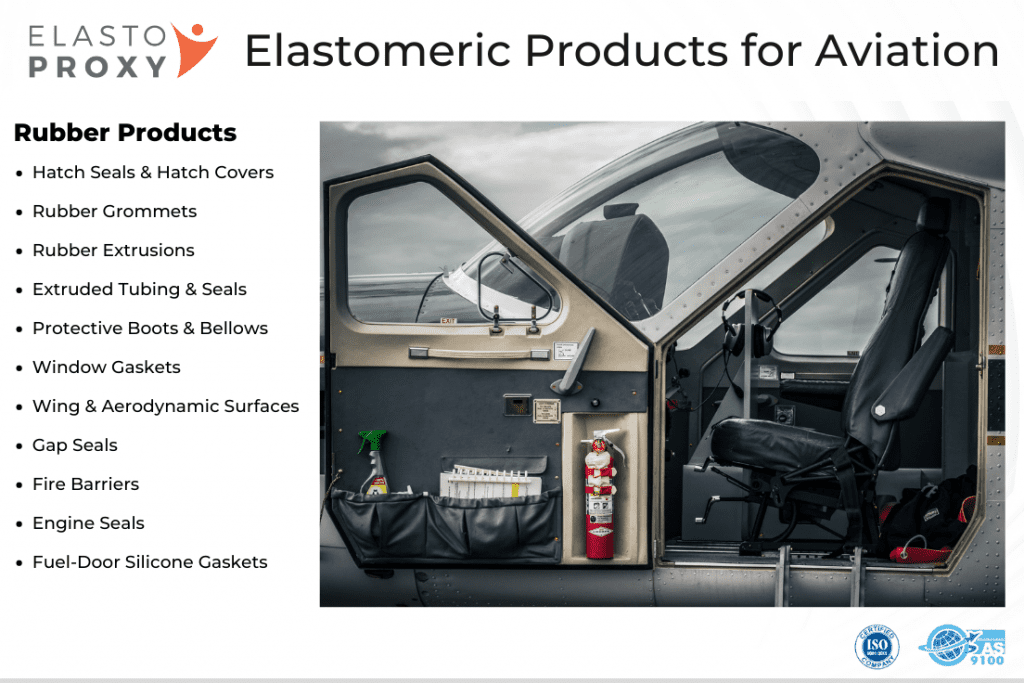 Materials for Aircraft Seals and Gaskets
Most aircraft seals and gaskets are made from elastomers, rubbery materials that retain their elasticity when stretched. ASTM D2000 provides a standard way to classify these compounds and a "common language" for buyers and suppliers to use. Although ASTM D2000 was developed for the automotive industry, it's now used in all industries and on many part drawings.
Fabrication and Distribution
Elasto Proxy isn't a rubber manufacturer, but we've partnered with compounders who can provide us with aviation-grade materials as sheets, rolls, or extrusions. We can help you with material selection and then support your operations as either as a fabricator or a distributor, depending on what you need. When you consider your true costs, outsourcing your fabrication to us might be more cost-effective.
Aircraft Elastomers and Non-Rubber Materials
Typically, Elasto Proxy supplies aircraft seals and gaskets made from these types of elastomers
FKM (Viton®)
neoprene
EPDM
urethanes and polyurethanes
These aren't the only aircraft materials we work with, however, and we can also supply you with rubber-to-metal bonded assemblies for vibration control or fiber-reinforced (FRP) plastic parts for airframe structures. We also work with thermal or acoustic foams such as polyester, urethane, polyurethane, and melamine, and can fabricate metal components that attach to aircraft seals and gaskets.
Standards and Specifications for Aircraft Rubber Gaskets
ASTM D2000 provides a standard way to classify rubber, but there are also specifications that aviation and aerospace materials need to meet. For example, silicone seals or fluorosilicone gaskets may need to meet Aerospace Materials Specifications (AMS) from SAE International or comply with MIL-DTL-25988, a U.S. military detail (DTL) specification that covers oil-resistant and fuel-resistant elastomers.
Civilian, military, and commercial aircraft typically use different standards, but there are also standards from original equipment manufacturers (OEMs) to consider. Often, these OEM standards address passenger safety by limiting potential exposure to flame, smoke, and toxicity (FST) within aircraft cabins. For example:
Bombardier business aircraft use interior materials that comply with SMP 800-C
Airbus uses the ABD 031 standard for fire testing and FST
Boeing standards include BSS 7238 for smoke density and BSS 7249 for toxicity
With EMI aircraft gaskets for military aviation, the MIL-DTL-83528 standard defines requirements for specific levels of shielding. EMI gaskets are also needed in commercial and civilian aviation because of the proliferation of electronic components aboard aircraft and the increasing deployment of 5G networks, which can interfere with onboard instrumentation.   
Material Costs and MOQs
Specifications-grade materials cost more than commodity compounds, so it's important to avoid buying more rubber than you really need. With the strength of Elasto Proxy's supplier network and our warehousing services, we can offer lower minimum order quantities (MOQs) if you share your sales forecast with us and issue a blanket purchase order with periodic releases.
For example, let's say you can forecast all of the AMS 3304 solid silicone sheeting that you'll need for a year. The total is enough for a volume discount but you order only small quantities at a time. You could order a year's worth of material from Elasto Proxy, have us store it for you in our warehouses, and then ship it to you each week. You can still get a discount but without paying for all the sheets at one time.    
Manufacturing for Aircraft Seals and Gaskets
Elasto Proxy also helps you to control costs by minimizing waste and maximizing yields. Sometimes, engineers who have not designed aircraft seals or gaskets before may specify dimensional tolerances that are right for metal parts but not for rubber components. Elasto Proxy can share RMA tolerance tables with you. If you engage us early in your seal design process, we can help you to minimize rework as well.
Water Jet Cutting and Abrasive Water Jet Cutting for Aircraft Rubber Gaskets
At our headquarters near Montreal, Canada, Elasto Proxy uses water jet cutting and abrasive water jet cutting to create parts from sheets, rolls, or extrusions. Water jet cutting is ideal for softer materials and can make chamfers, notches, holes, dovetail cuts, clean edges, and 90° corners. Abrasive water jet cutting is used with harder materials, such as glass, metal, and Kevlar, and with metal-reinforced rubber. 
Because these digital manufacturing processes are tool-less, you won't have to wait for or pay for tooling to arrive before work can begin. Since both processes can also be performed on a gantry table, we can nest your parts for higher material yields. Water jet cutting and abrasive water jet cutting are great for prototypes and low-to-medium volumes, but we also help you with your other project needs.   
Die Cutting, Molding, and Added-Value Manufacturing
For example, with the strength of our supplier network, we can supply you with die cut aircraft seals in higher volumes. We also work with an AS9100D aerospace molder so that you can order of all of the aircraft seals and gaskets that you need from us. Our molder specializes in silicone, urethane, and polyurethane materials and also provides fabric-reinforced gaskets.
Elasto Proxy can then package all of the parts that are needed for an aircraft into a convenient kit. Along with molded parts such as gaskets, hoses, and bellows, this kit could include parts made from extruded rubber and even plastic materials. We can ship you coils, cut lengths, or finished gaskets, but one advantage of buying finished parts from us is that we can kit them for you in order of assembly.
Elasto Proxy's in-house manufacturing services also include a choice of gasket bonding processes: hot splicing, vulcanization, cold bonding, and molding. We can also mark your rubber or plastic parts so that they're easier to identify. If you need thermal, acoustic, or thermal-acoustic insulation instead, we can laminate sheet materials together and then cut these "insulation sandwiches" to specific shapes and sizes.
Finished Products and First Article Inspection (FAI)
These are some of the rubber products that Elasto Proxy supplies to the aviation industry.
Hatch seals and hatch covers
Rubber grommets
Rubber extrusions
Extruded tubing and seals
Protective boots and bellows
Wing and aerodynamic surfaces
Gap seals
Fire barriers
Engine seals
Fuel door gaskets
We can also supply you with you aircraft seals and gaskets for first article inspection (FAI) along with standard AS9102 Forms or other FAI documentation. To learn more about our capabilities and how we can help you, please contact us to discuss your application.