Industrial Tubing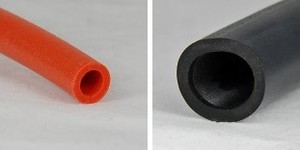 Rubber Tubing for Low Compression Sealing and Shock Absorption
Elasto Proxy designs and custom-fabricates industrial tubing for low compression force sealing and shock absorption. Choose soft, bendable tubing made of silicone, neoprene, or EPDM for rubber seals under low compression conditions. Elasto Proxy can also cut lengths of industrial tubing into tube rings to reduce mechanical vibrations. The air that's trapped inside acts as a shock absorber to aid in recovery.
Types of Industrial Rubber Tubing
When selecting industrial tubing, choose high-quality products made of rubber compounds that meet all of your application's requirements.
Silicone tubing is an excellent choice for applications with extreme temperature changes. Pliable and elastic, this flexible tubing also offers resistance to weather, ultraviolet (UV) light, and some chemicals. Silicone tubing is used to protect electronic enclosures and is often specified for high-purity applications. A durable synthetic resin, silicone rubber has a smooth inner surface for repeating cleaning and sterilization. Used in medical equipment, silicone is also popular with the food equipment industry.
Neoprene tubing remains flexible at low temperatures and is flame-resistant. Tough and durable, this rubber tubing provides strong cut-through and abrasion resistance and can withstand many common petroleum derivatives. Choose neoprene tubing for industrial applications that require rubber parts that must resist ozone, sunlight, and oxidation. Since some neoprene compounds meet safety requirements for flame, smoke, and toxicity (FST), neoprene tubing is also used by the mass transit industry.
EPDM tubing provides outstanding resistance to heat, ozone, and weathering. Rubber tubing made from EPDM rubber also resists industrial chemicals such as hydraulic fluids, solvents, and some acids. In addition to excellent flame resistance and low-temperature flexibility, EPDM provides electrical insulation and high tensile strength. Automotiveapplications for this flexible tubing include heater and coolant hoses.
Product Specifications
In addition to rubber compounds, consider product specifications such as unit, weight, and durometer (duro) when selecting rubber tubing. Durometer is a measure of the hardness of a rubber material, where hardness is defined as resistance to permanent indentation. Quantity per box, quantity per coil, and dimensions (A, B, C, and D) are also important to consideration when choosing rubber tubing.
For over 20 years, Elasto Proxy has provided high-quality, low-volume sealing solutions to a wide variety of industries.Visit our website for more information, or contact us today. Do you need to design or improve a rubber seal, solve a difficult sealing challenge, strengthen your supply chain, or source small quantities of rubbing tubing? How can we help you?